Please note that the Kindergarten time is from 1:00 - 1:45 p.m.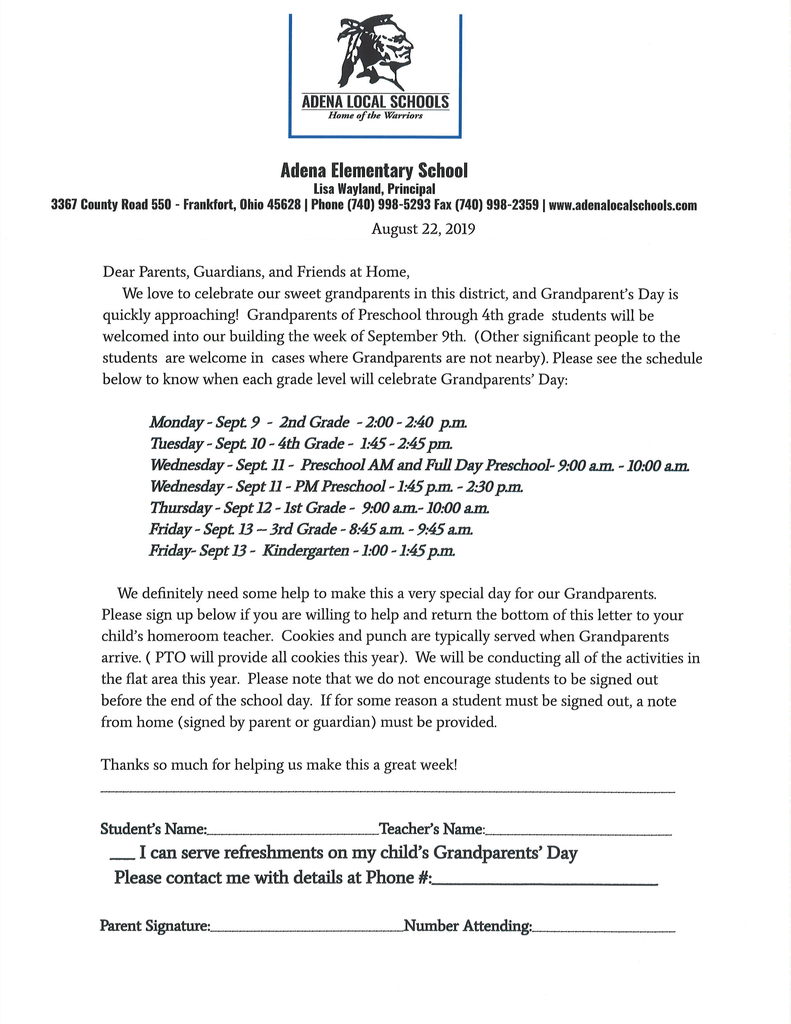 The football game against Marion Elgin that is scheduled for this Friday has been cancelled. Elgin made this decision due to them now only having 18 players. The athletic department is in the process of finding another opponent for this Friday.

Greetings to our Adena Elementary Family! We are so happy to be back with your children. I wanted to let you know that our BLUE system is up and running. (Behavior Leading Us to Excellence). Students are earning Blue Bucks for making good choices throughout the school day. Our expectations are posted all around our building so they have constant reminders. With their Blue Bucks they can earn rewards throughout the school year. Some are surprises....some they will be aware of and are working hard to achieve. Please help us by encouraging your children to continue to make good choices at school. Their commitment will pay off! And as always....thank you for your support and help. Yours in Education, Mrs. Wayland

There will be a parent meeting for any 8th grade student who is interested in the Washington D.C. trip for Spring 2020 on Thursday, September 5th at 7:00 p.m. This meeting will be held to give parents and students an opportunity to find out more about the trip and fundraising opportunities. We will need confirmation with a non-refundable down payment of $100 by September 27th, 2019 to lock in your spot.

The Warrior Club met Friday and the students have come up with these themes for the fall sports season. Students in all grade levels are encouraged to participate. The Warrior Club is our school spirit group that was organized to get students more involved with our after school activities and to bring them closer as a student body. The marching band will also continue to kickstart our weekends by marching the halls at the end of every Friday during the fall season! Go Warriors!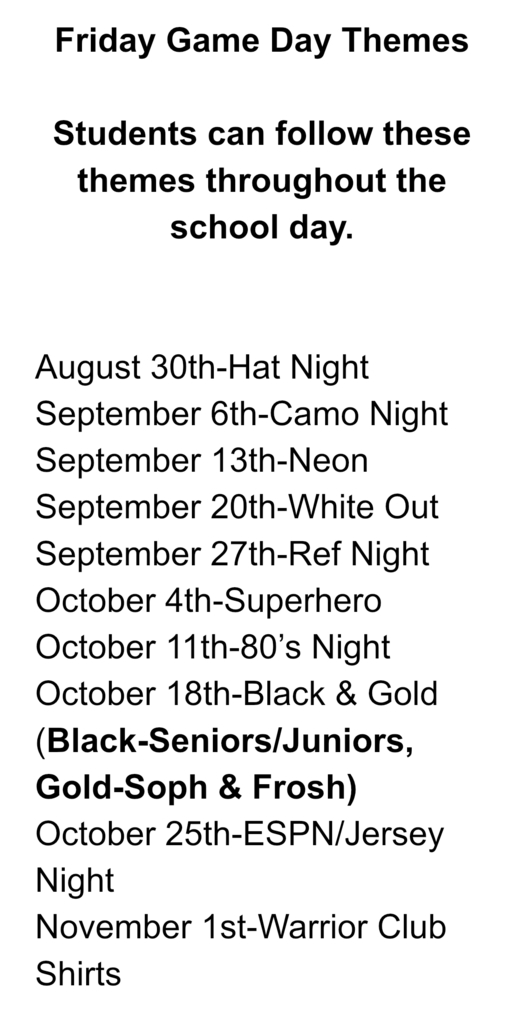 These members of the Class of 2020 enjoyed their last first day of school today. Have a great senior year to all members of the class! Go Warriors!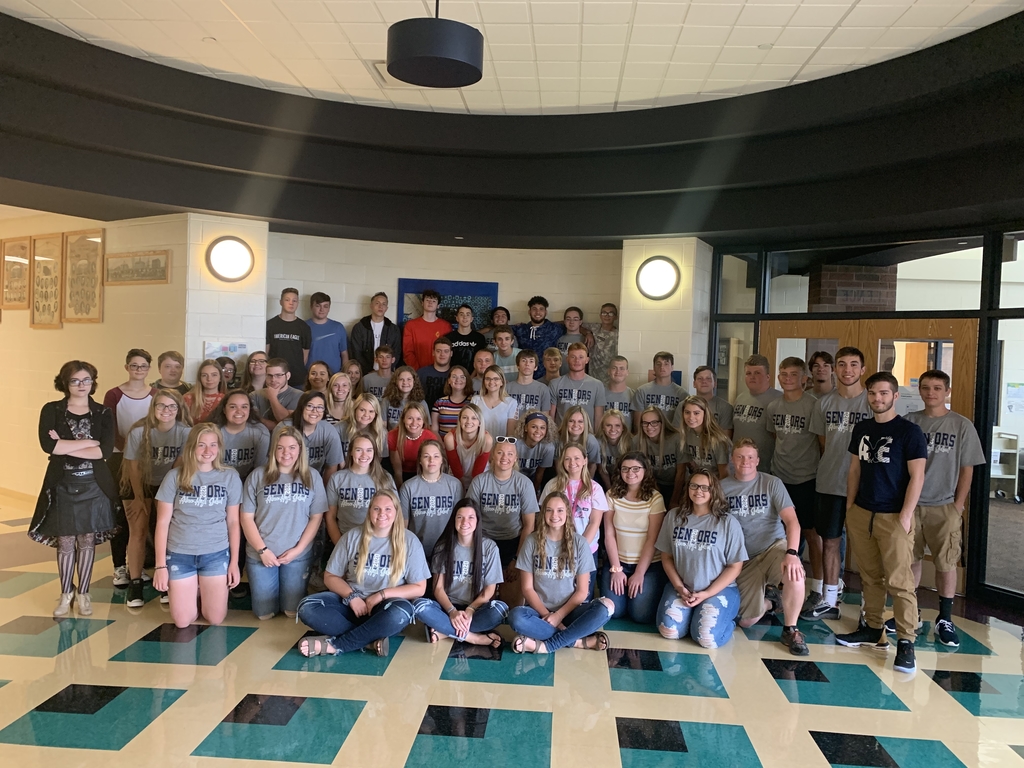 Good evening! This is Dustin England, Adena Middle School Principal, with important information for middle school families as we embark on a new school year. We hope that everyone has had an enjoyable summer and we are excited to welcome all the students back to Adena for the 2019-20 school year. All back to school information has been sent and you should be receiving it very soon. If you have recently registered your child in the district, your packet may not be sent until later this week. The contents of the mail will have important information pertaining to the start of the school year. Such as, welcome letter, school schedule, and medical forms. 7th grade students will also receive another letter about immunizations that are required for all 7th grade students. The open house will be held on Monday, August 19th from 5-6:30 pm. All students and parents are encouraged to show up and get familiar with their new teachers. A 5th and 6th grade orientation will take place in the auditeria that evening starting with the 5th grade at 5 p.m. and the 6th grade at 5:30. During this meeting we will discuss important details for new middle school students. The 6th grade parents are encouraged to attend because we will discuss the details of the 6th grade camp trip that will take place in early September. If you do not receive your schedule in the mail, one can be obtained at the open house in the middle/ high school office. Reminder you may return your emergency medical form that evening as well to the office secretary. The homeroom for a 5th grade student is listed as the tenth period known as the attendance period. All 6-8 students will report to first period on their schedule. The first day for students will be Wednesday, August 21st. If you have any questions regarding any of this information, feel free to contact MS Office at (740)998-2313. We are looking forward to the start of another great year!

If your child was 4 years old on or before August 1, 2019, and you meet income qualifications, we would love to welcome your child into our preschool program. Check your eligibility by finding the total number of people in your household in the left column. If your total household income falls at or below the amount listed in the right column, you qualify for free preschool! Please contact Kacey Shaffer at 740-998-5293 for information on applying. Classes begin August 21!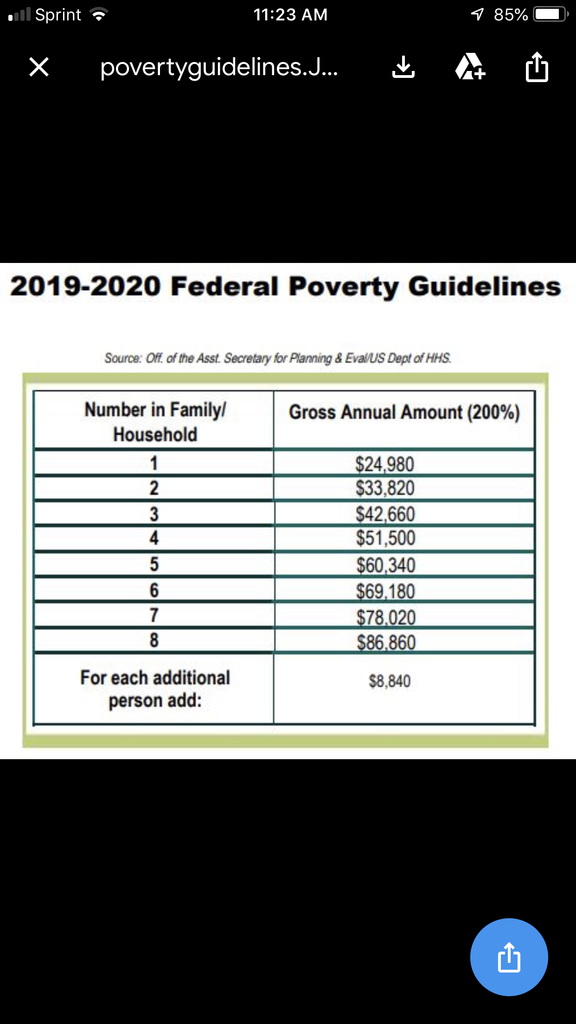 This message is for students attending PRCTC: A reminder that the Pickaway-Ross Career & Technical Center will start back August 14th. For those students that need transportation to PRCTC, Adena will have bus number 17 in the loading zone at school at 7:45 a.m. starting on August 14th. It will also pick you up from PRCTC at the end of the day and return back to Adena Local Schools around 2:50 p.m. You are also reminded to check our communique that is posted on the Adena bulletin board in the PRCTC cafeteria for updates from Adena. You can also view the communique on our website at adenalocalschools.com. Just go to the menu and select the high school. You will find it in the "HS News & Announcements" section. This information was also sent to your school email. Have a great day!

Here are the varsity athletic schedules for football, volleyball, cross country, and golf. All of our athletic schedules can be found at adenalocalschools.com. Once on the page, go to the menu and select high school. The schedules for fall and winter athletics can be found there. Go Warriors!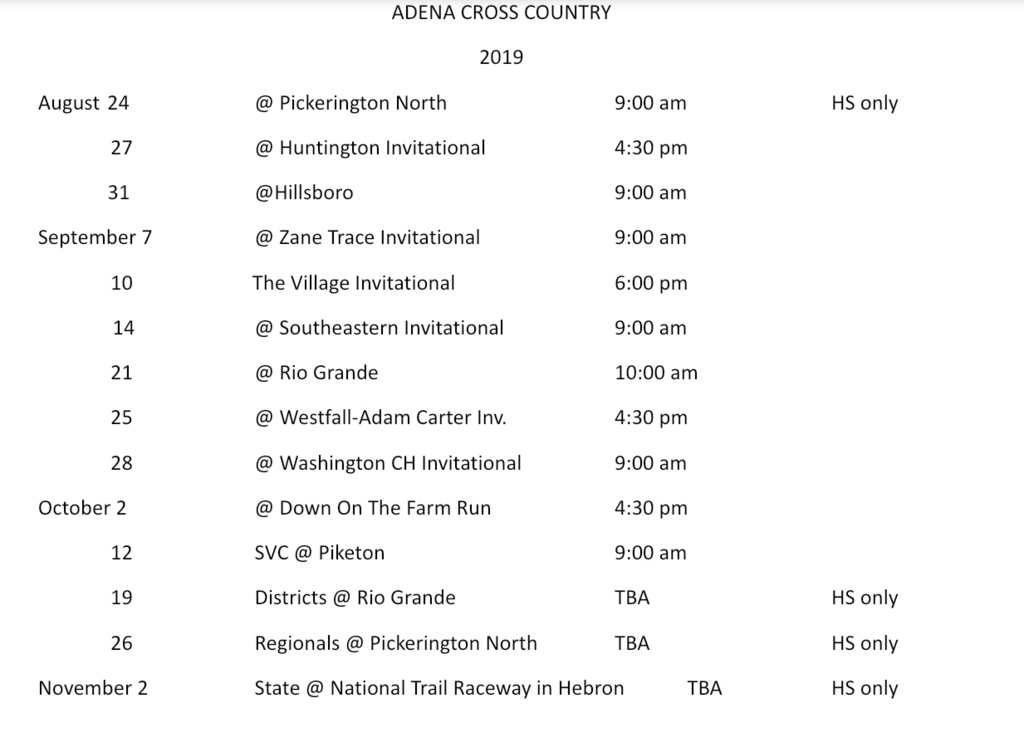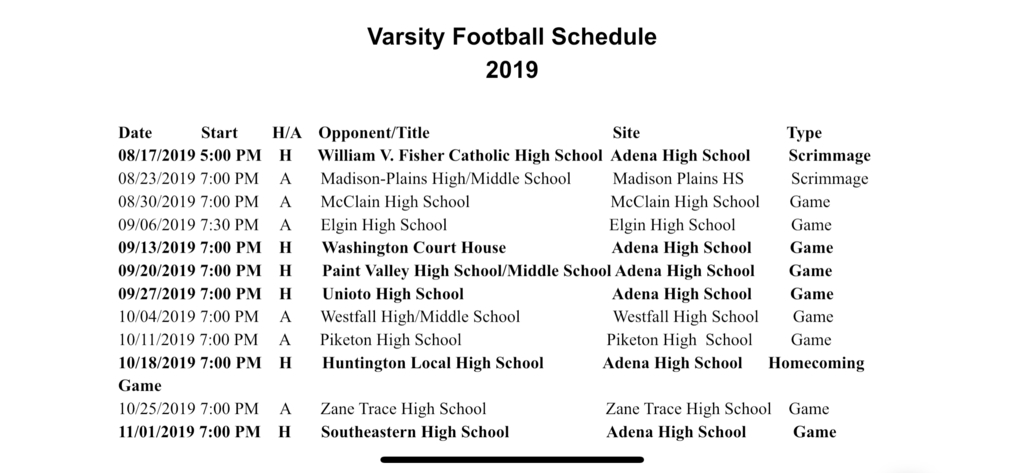 All Elementary letters for homeroom/classroom assignments have been mailed. Kindergarten through 2nd grade were mailed last week, and 3rd and 4th grades were mailed this past weekend🙃. Enjoy the fair everyone‼️

This post is for the high school: As another year approaches, I am working on incentives for our PBIS program. It is referred to as B.L.U.E. This stands for Behavior Leading Us To Excellence. This will be our second year of this program. Students are rewarded at the end of every nine weeks for good grades, behavior, and attendance. Last year, some rewards included bowling, Triple Crown, and a trip to DanBarry Cinemas. Gift cards and a free lunch of their choice was given to the student of the month. These were paid for by the principal. All these incentives are in place for this year, but I am looking for donations from businesses for a drawing that will be held at the end of the 2019-2020 school year. The drawing will be for students that meet the rewards criteria for all four nine week grading periods. If there is any business willing to donate to our drawing or help with this program, you can email me at
josh.jones@adenalocalschools.com
or call the school at 740-998-2313. A reminder that schedules are going out August 12th. Have a great day, Josh Jones "There are no shortcuts to any place worth going." – Beverly Sills

The 2019-2020 school year is approaching fast. Open House is scheduled for Monday, August 19th from 5:00-6:30 p.m. Freshman orientation will take place at 4:45 p.m. in the high school gymnasium on August 19th. Schedules will be sent out on August 12th, along with the Chromebook agreement form, and school calendar. Mr. Buchwalter will be distributing the Chromebooks in the library during the open house. The Chromebook agreement form needs to be filled out to obtain a Chromebook. He will also have set times at school that they can be picked up, if you cannot attend the open house. Here is also a link to the agreement form:
https://docs.google.com/document/d/1KADH9C2K5OT9uIBXcSN0yWDAjrvFalcoIJ9LJ5QtRCo
Dates to remember: First Day of School- Wednesday, August 21st Homecoming Football Game-Friday, October 18th Homecoming Dance- Saturday, October 19th Fall Sports Senior Night-Friday, November 1st Jr./Sr. Prom-Saturday, April 25, 2020 Academic Awards Ceremony-Tuesday, May 19, 2020 at 9 a.m. High School Graduation Ceremony-Saturday, May 30, 2020 at 7p.m.

Attention to all Adena Parents/Guardians of Kindergarten students! We plan to mail letters out on July 29 informing students of classroom assignments. The letters will also contain important information about orientation sessions and when to start school. If your child does not receive a letter it is due to missing shot records and/or other required documentation. Please call the Elementary Office if you want to check if you are missing documentation required to register your child for Kindergarten.

Senior Johnathan Cokonougher, and Juniors Slate Kellis, Trey Timmons competed yesterday, Saturday, July 13th at the National Championship High School Clay/Target League in Mason, Michigan. After qualifying for the Nationals by having a high 5 week league average, 3 out of 14 members advanced to compete at Nationals. 1,688 students from all over the United States competed individually. Johnathan shot a 88 out of 100 with a reserve run of 10, Trey Timmons placed 436th shooting a 92 out of 100 with a reverse score of 1 , and Slate Kellis placed 264th shooting a 94 of 100 with a reverse run of 9. At National level the first 400 individuals place in order to compete. Slate Kellis qualified and will be competing today, Sunday, July 14th. We wish Slate the best of luck and leave nothing but dust! This update is courtesy of Lisa Timmons. Go Warriors!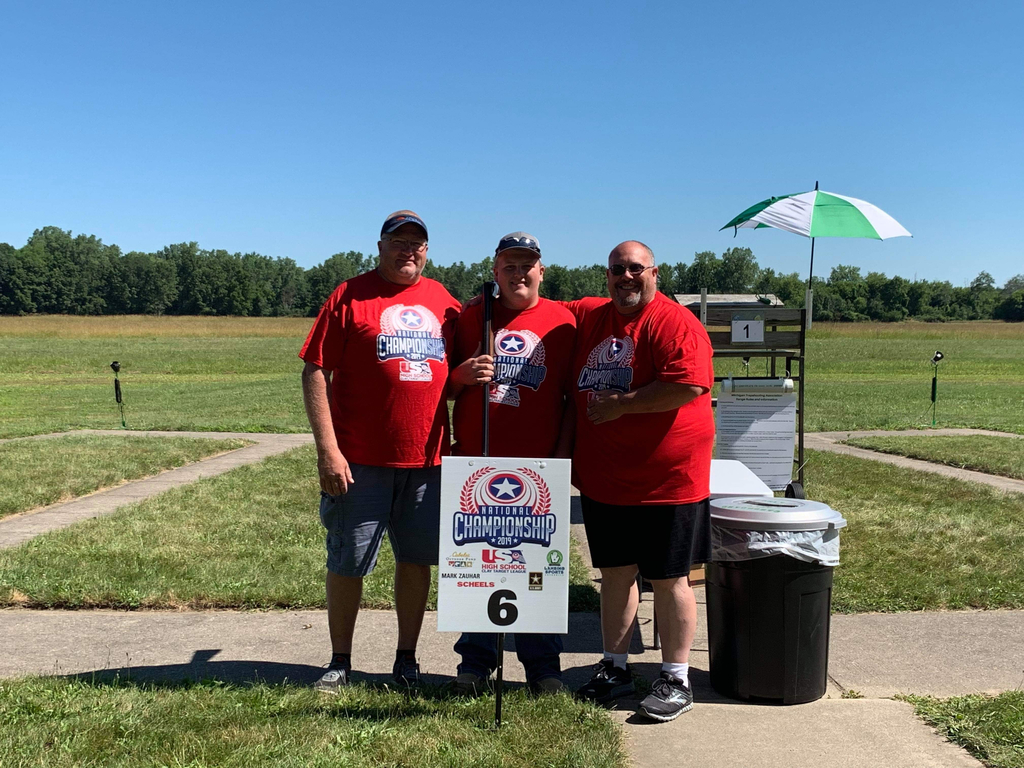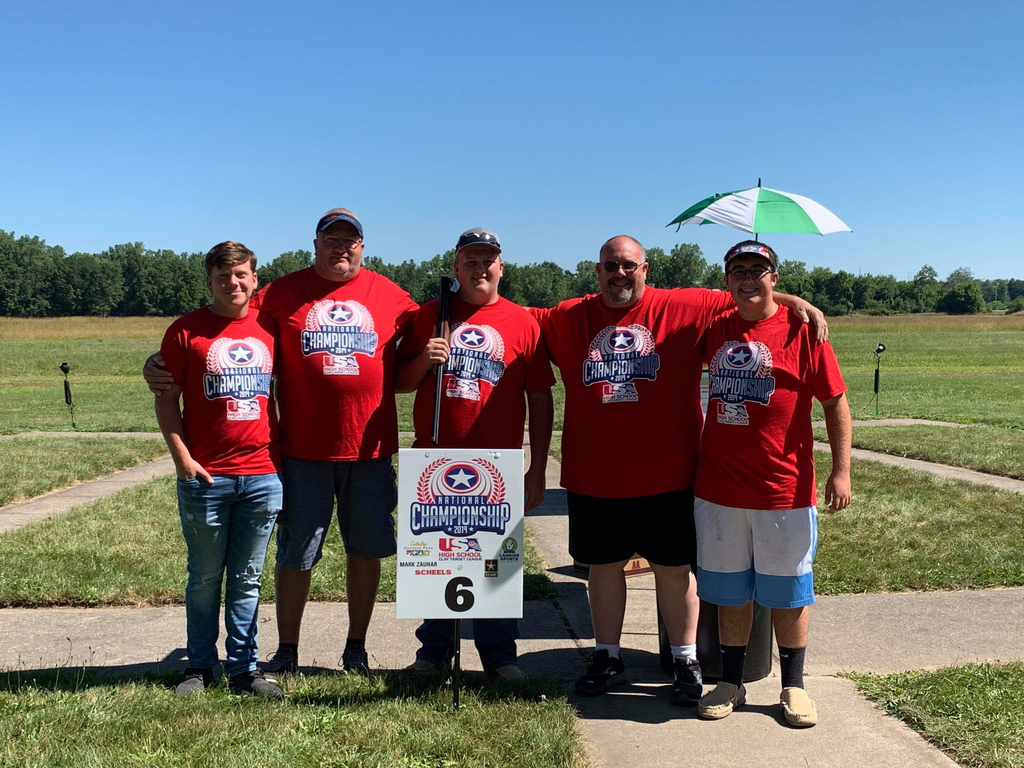 There will be a meeting for any student in grades 7-12 interested in golf at the Jaycee Golf Course on July 15th at 6 p.m. This meeting is also for their parents. The last day to sign up will be July 31st. If you are interested, you can contact Coach Depugh at 740-804-5921 or email
greensking06@gmail.com

Our students and staff are returning home today from their trip to the Dominican Republic! Mrs. Wiseman organized a great experience for them. Here is her summary of their final day: "Our last day in Dominican Republic was a busy one! We started with a visit to Altos de Chavon, a village where artists are trained and which was built in the 16th century Mediterranean style. Afterwards, we braved a zip line course over the Cumayasa River. When we got back to Santo Domingo, we did some shopping and had our send-off dinner at a wonderful Dominican restaurant. And what a surprise when dinner turned into a dance party!"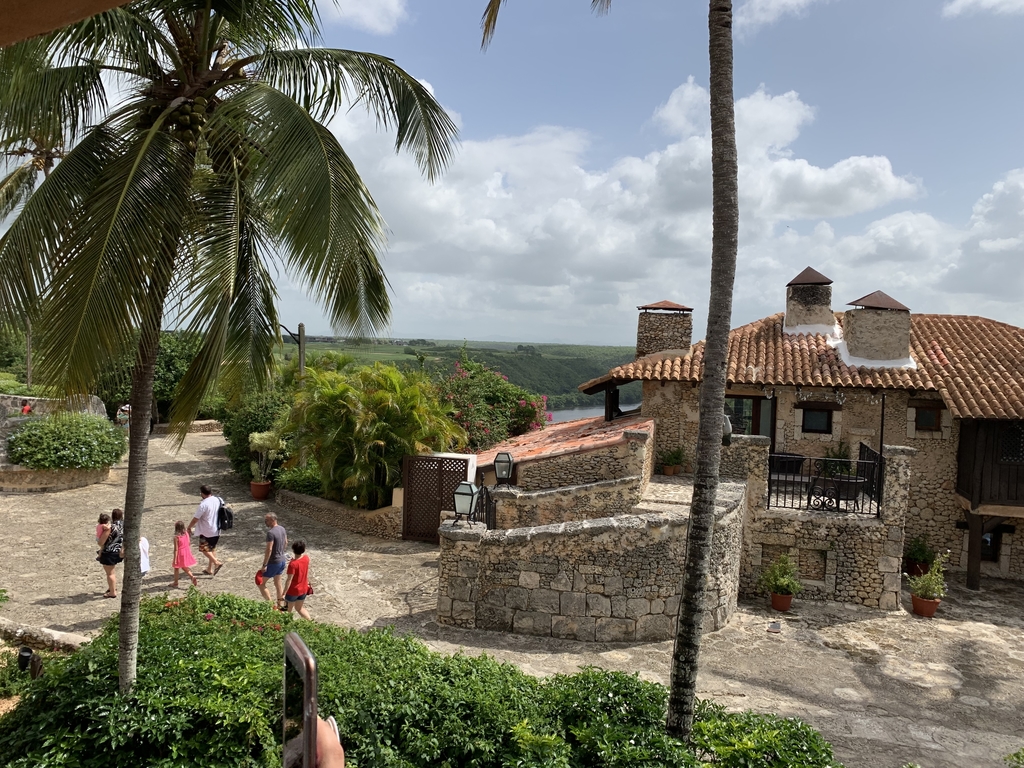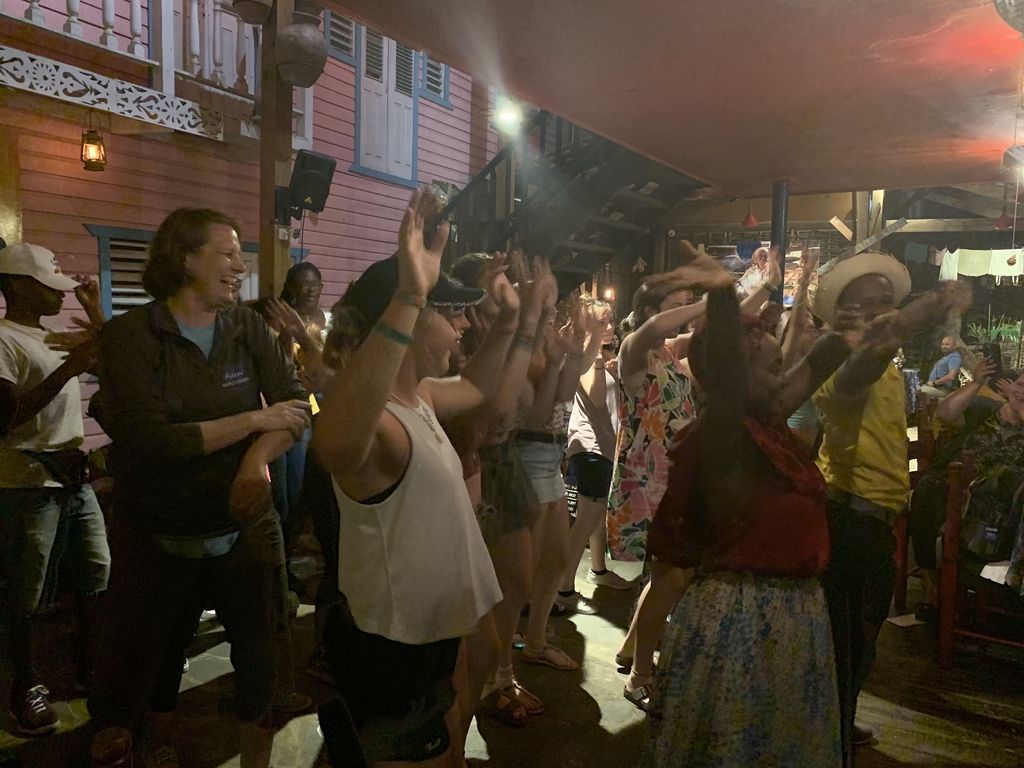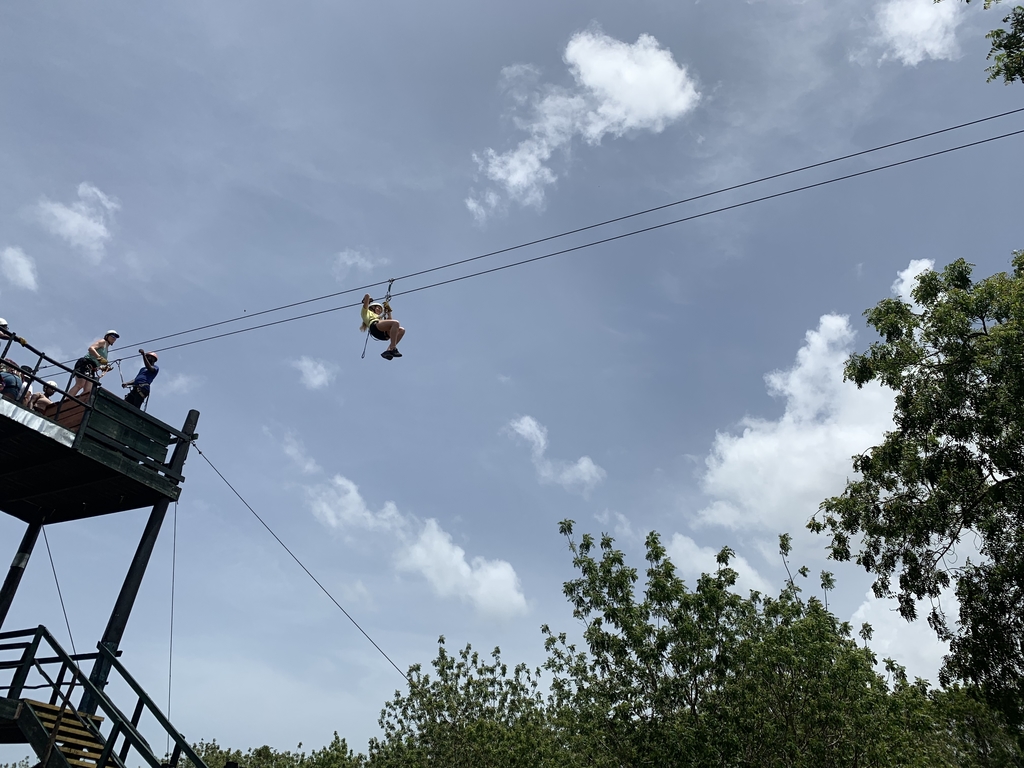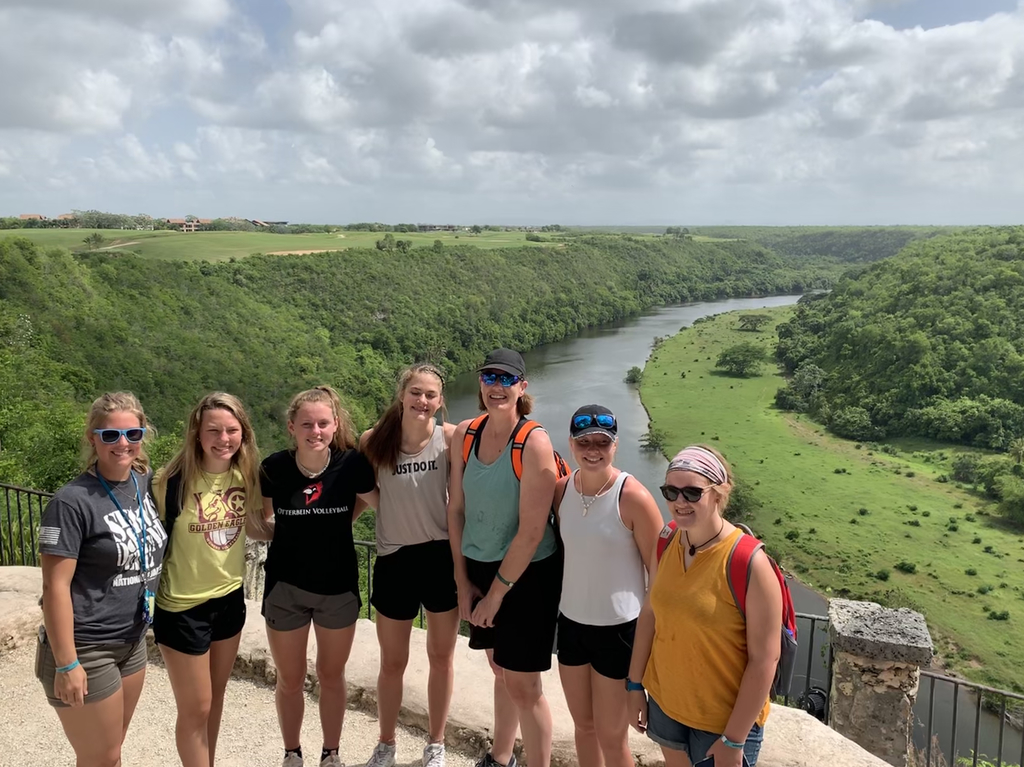 Mrs. Wiseman's update from the Dominican Republic: "No trip to Dominican Republic would be complete without a day at the beach! Yesterday we took a catamaran out to an island with beautiful white sand beaches and crystal clear water. We spent the day lounging under palm trees, swimming in the sea, playing volleyball, and enjoying a barbecue. We came back on a speed boat for our last night in Bayahíbe. This morning we head back to Santo Domingo, and tomorrow we fly home!"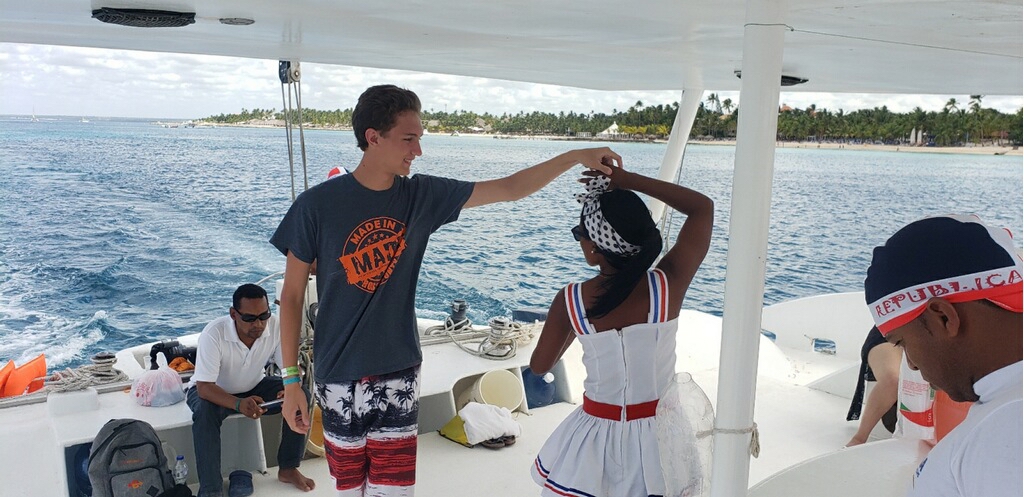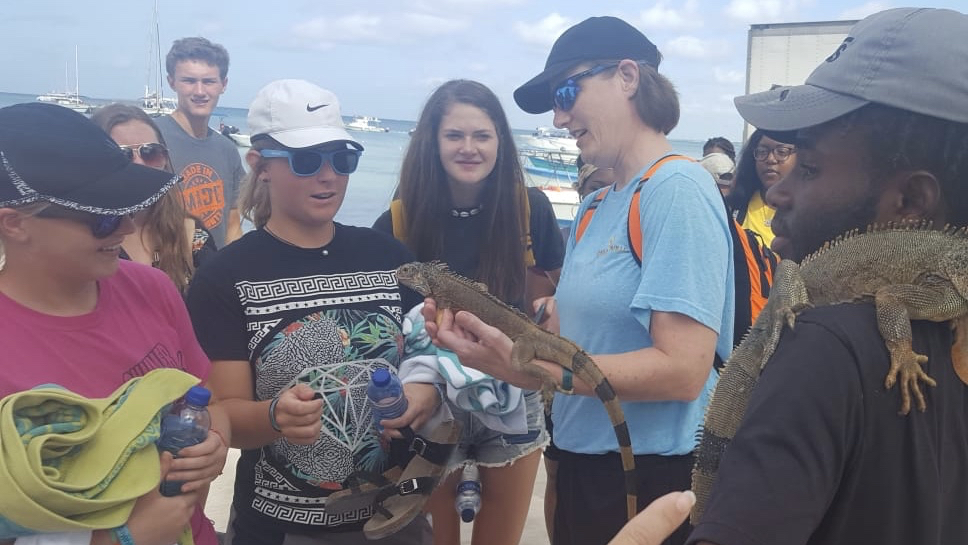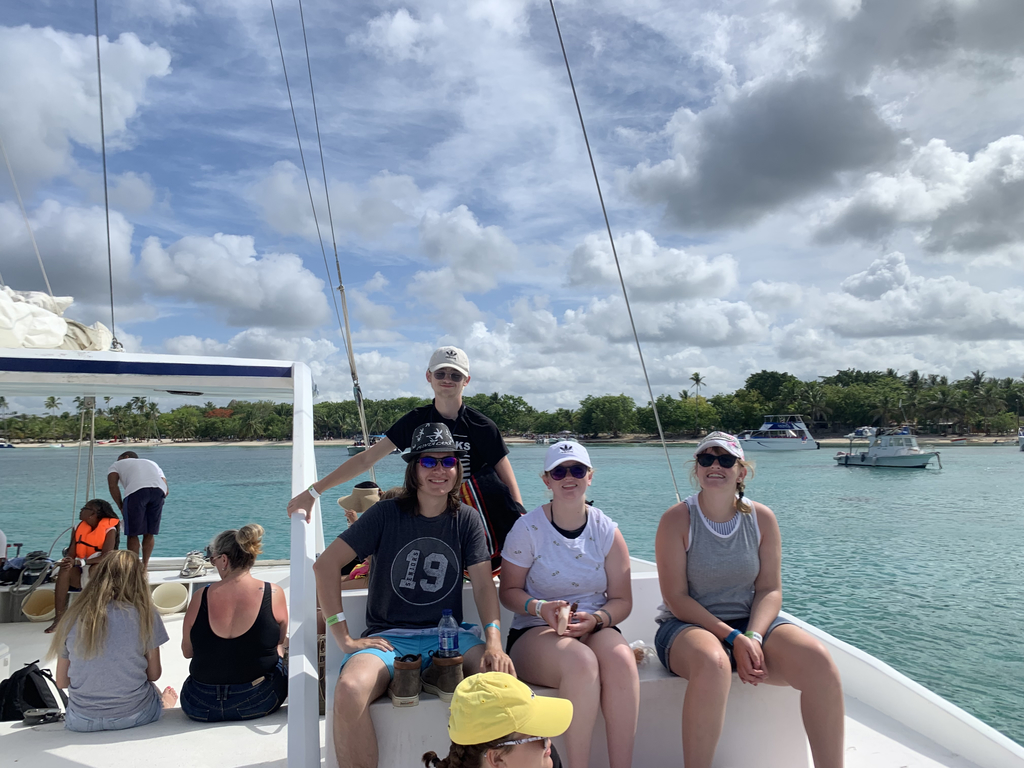 Mrs. Wiseman's updated from yesterday's activities in the Dominican Republic: "Yesterday we began the day with a hike through a national park to learn about the flora and fauna of the island. We learned how the indigenous Tainos used the plants for food, medicine, and construction, and how conservation efforts have helped to maintain this patch of land and its distinct biodiversity. At the end of the hike was an unforgettable experience. There was a cave with a pristinely clear river running through it, and we got some swimming time there inside the cave. Our guide held flashlights for us while we dove into the cold water. There's something very unique about floating along in the dark watching bats fly in and out of their holes in the cave walls!"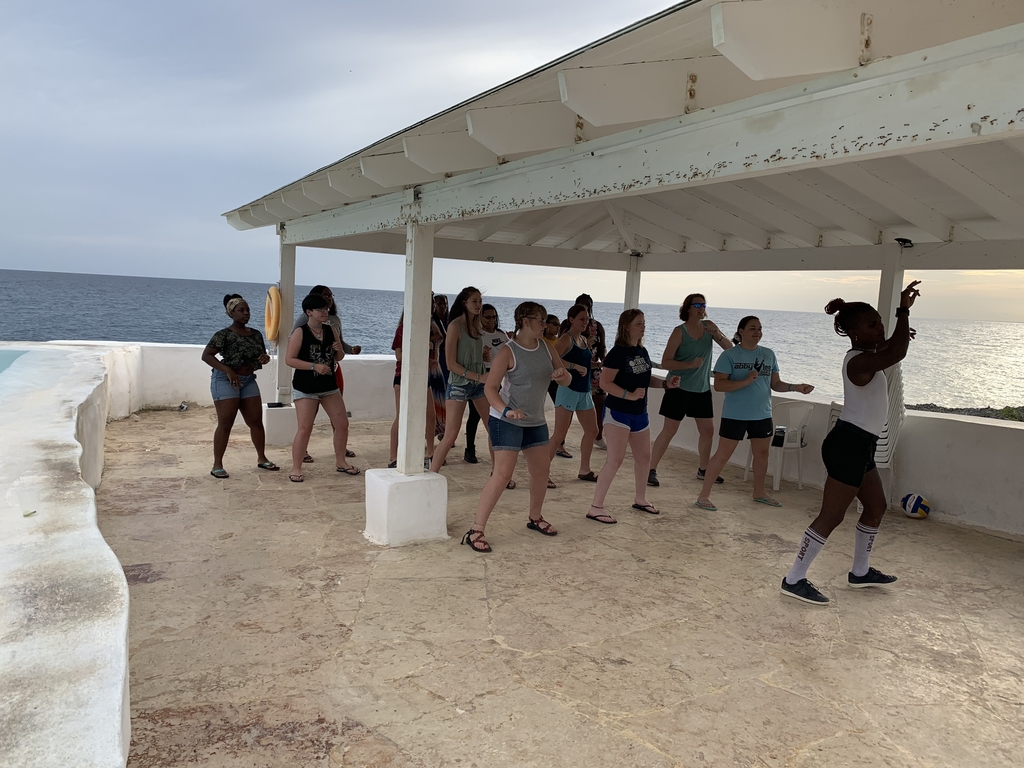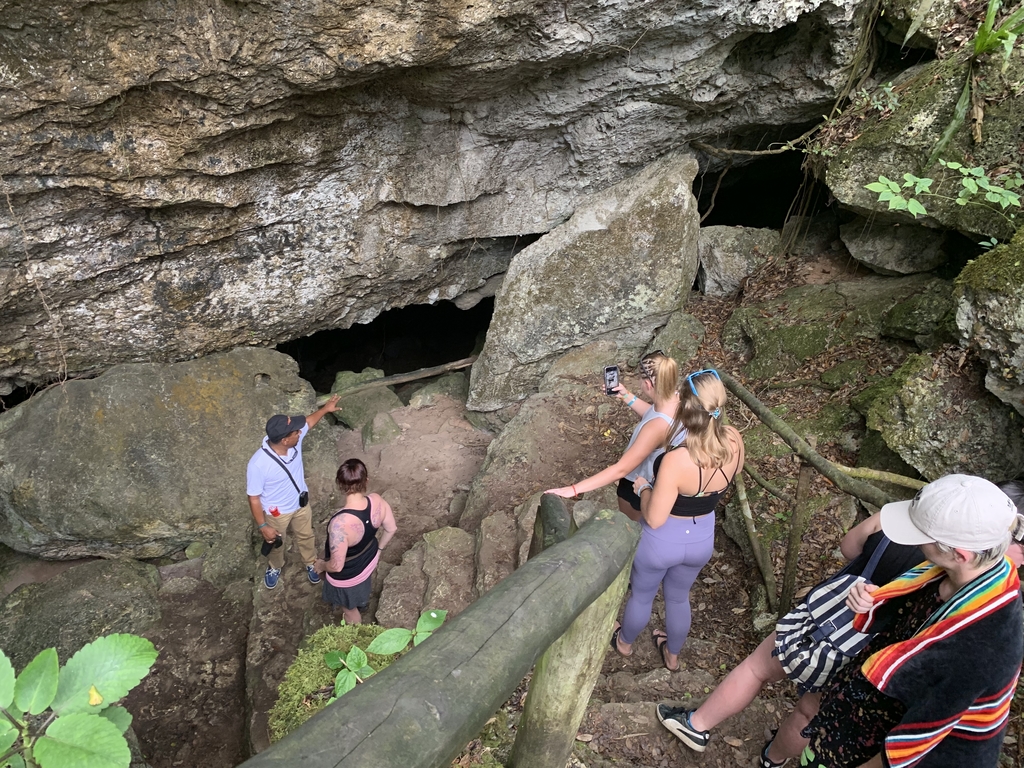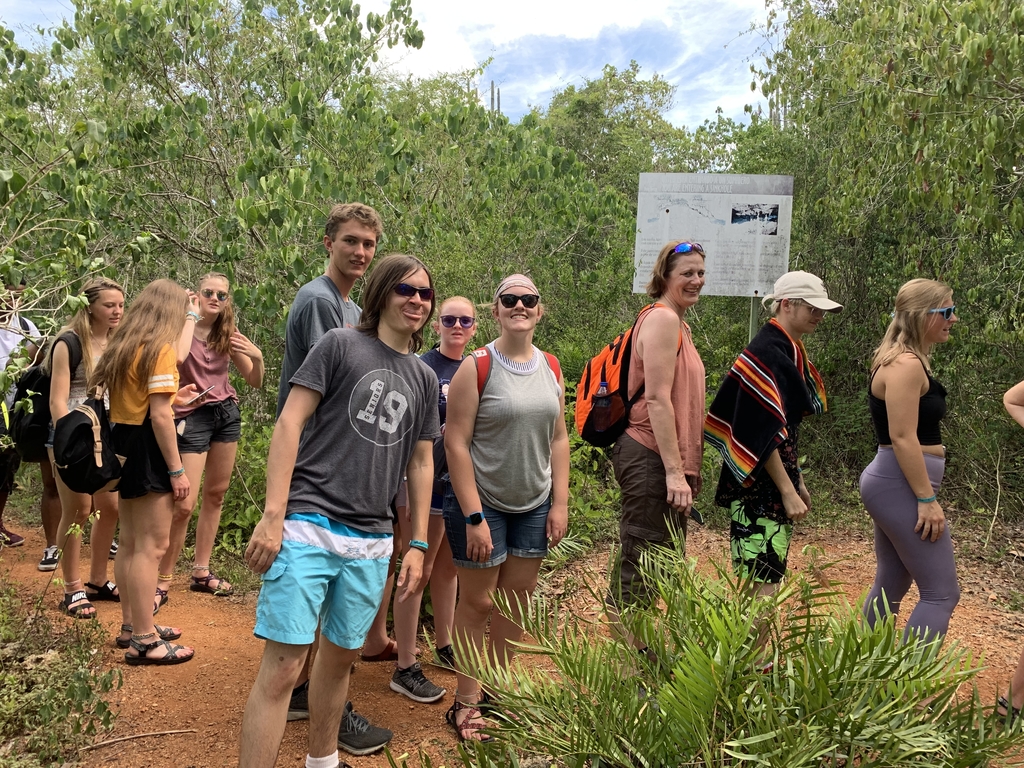 Our students had another day of great experiences in the Dominican Republic yesterday. An update from Mrs. Wiseman: "Yesterday we visited the boys' orphanage from the same organization, Niños de Cristo. Once again we had a tour of the facility, and our group had a blast playing basketball, soccer, balloons, and toy cars with the boys. We were also able to go pick up supplies for them, most of which were groceries to keep the growing boys fed! This organization is doing great work to care for and protect the vulnerable young people of this country. It has been a blessing to be involved in meeting and supporting them. After the orphanage visit, it was time for some much needed relaxation! We spent the afternoon swimming and sunbathing, and some even participated in a dance lesson to learn bachata, a local favorite."