Introducing the Adena High School Homecoming Court! From left to right: Emily Hamlin- Sophomore Attendant Makayla Baxter-Senior Attendant Jarrett Garrison- Homecoming King Olivia Riley-Homecoming Queen Paige Morris-Junior Attendant Sydney Ater-Freshman Attendant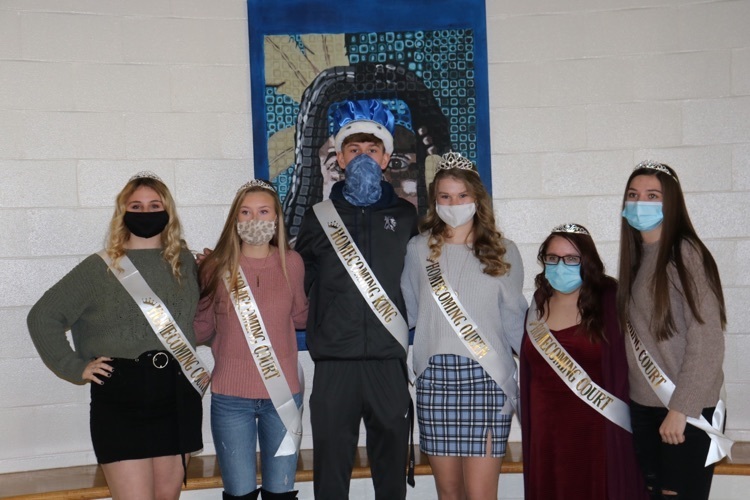 Parent/Guardian Update Adena Staff Vaccination Day Round #1 Adena Staff have been assigned vaccination times for Thursday, February 25th, from 10:00 a.m. to 6:00 p.m.. We will have to travel to Union Scioto Local Schools to receive our shots. Due to the length of time involved for each individual to travel to the site, receive their shot, wait the required 15 minutes and then return, we will have to make February 25th a distance learning day in order to get this accomplished. We want to let everyone know in advance so you can make arrangements. Our District Required Hours Status is in good standing. We have used a considerable amount of our hours to provide the delayed start requested at the beginning of the year due to the pandemic. We have used 7 weather-related distance learning days and will use 1 day for vaccinations in order to avoid having school in session until June 16th to meet Ohio requirements. It is important to let everyone know that we are carefully tracking academic data this year, and our students are right on target for the expected score levels on achievement measures. Our students are to be commended for keeping up with their work, achieving success in their extracurricular activities and making in-person learning possible through their cooperation with CDC guidelines and Ohio mandates. Next year we will be able to start on a normal calendar. We certainly hope to use fewer distance learning days and hope the weather cooperates a little better than it has this year. Most importantly, we are guardedly optimistic we can put much of the pandemic-related issues impacting this year behind us. Again, as it stands, we are still on track to be finished with this year on June 4th. We appreciate everyone cooperating and working together to get through the pandemic which is obviously a once-in-a-generation event. Spring will be here soon and hopefully we will be returning to a more normal situation. Thank you for your patience and understanding.

Our girls' basketball team will be departing school tomorrow at approximately 3:30 p.m. to head to their district semifinal tournament game against North Adams. They will be escorted by representatives of the Ross County Sheriff Department and both the Deerfield and Concord Township Fire Departments. Come out and cheer them on as they pass through Frankfort on the way to their game! Go Warriors!

Congratulation to the Adena Middle School Spelling Bee winners! Champion: Hayley Bossert Runner-up: Clara Ewing 8th grade winners:1st- Hayley Bossert 2nd- Corrine Day 7th grade winners: 1st- Meghan Hurless 2nd- Katie Ramsey 6th grade winners: 1st- Clara Ewing 2nd- Ava Ferrell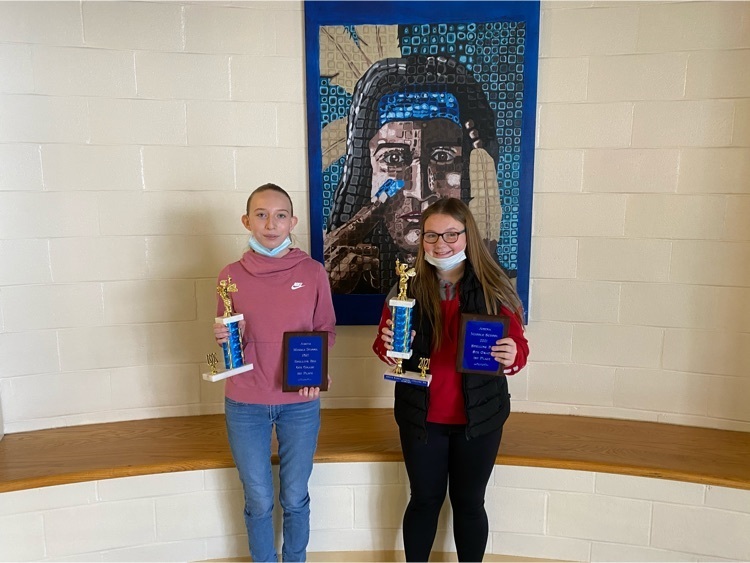 Our boys' basketball team defeated Rock Hill tonight 55-32 and improved to 21-2 on the season. Our Warriors will now play Meigs for a Division III Sectional Championship this Friday at 7 p.m. The game will be played at Adena High School. Go Warriors!

Please disregard the previous message about the elementary yearbook. The photographer sent out incorrect information to us in an email, and has since corrected it. Our apologies. Yearbook orders will be in the Fall. Thank you!

Attention Adena Elementary Students!!! This is a reminder that all yearbook orders must be placed online at
http://downtownphoto.gotphoto.com/prepay
The deadline for ordering is Friday, February 26th.

Congratulations to Mrs. Alena Smith - Grade 2 Teacher!! Mrs. Alena Smith was nominated by one of her students' parents as a "Teacher Hero" and will be spotlighted on Channel 10 (CBS) TV on Tuesday, February 23rd, on the 6:00 am morning news show. Her tribute will also be accessible from the 10TV website as well. Mrs. Smith has taught the second grade online students through first semester, and is now balancing both online and in-person students. We are so proud of her efforts and she is our Hometown Teacher Hero!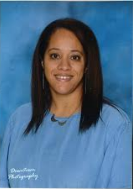 Evan Ater is competing in the Central District State Swim Championships at Bowling Green State University today. Evan is scheduled to swim at 11:45 a.m. and 1:25 p.m. today. Here is the link to the meet.
https://youtu.be/Nv-3NSMHQi4

Sectional Champs! Final Adena 47 Northwest 43 Our Lady Warriors have advanced to the Division III District Semi-Finals and will play North Adams on Wednesday, February 24th at 7 p.m. The game will be played at North Adams High School. Go Warriors!

Here is the link to the Division III Girls' Sectional Championship game between McDermott Northwest and our Adena Lady Warriors. Game time is 6 p.m.
https://youtu.be/THmtAMEE6u8

Girls' tournament game update: The start time is now at 6 p.m. D44 Films is still live-streaming the game.

The start time for our girls' tournament game tonight has been moved to 5 p.m. Our boys' basketball game at Waverly has been cancelled. Instead, our junior varsity and varsity boys' basketball teams will play at Leesburg Fairfield this Friday, February 19th.

Mrs. Taylor is experiencing internet connectivity from her home. She will continue to work to get connected. Thank you.

At the Division II Southeast Swimming Sectional on Saturday, Evan Ater swam the 50 freestyle in 24.52 and had a personal best time of 100.94 in the 100 backstroke! His times have qualified him to compete in the Central/East/Southeast District Swimming & Diving Championships at Bowling Green State University this Thursday, February 18th!

Our girls' basketball team rallied back to defeat Eastern Meigs, 47-39. They now play for a Division III Sectional Championship on Wednesday, February 17th at 7:00 p.m. against McDermott Northwest at Adena High School.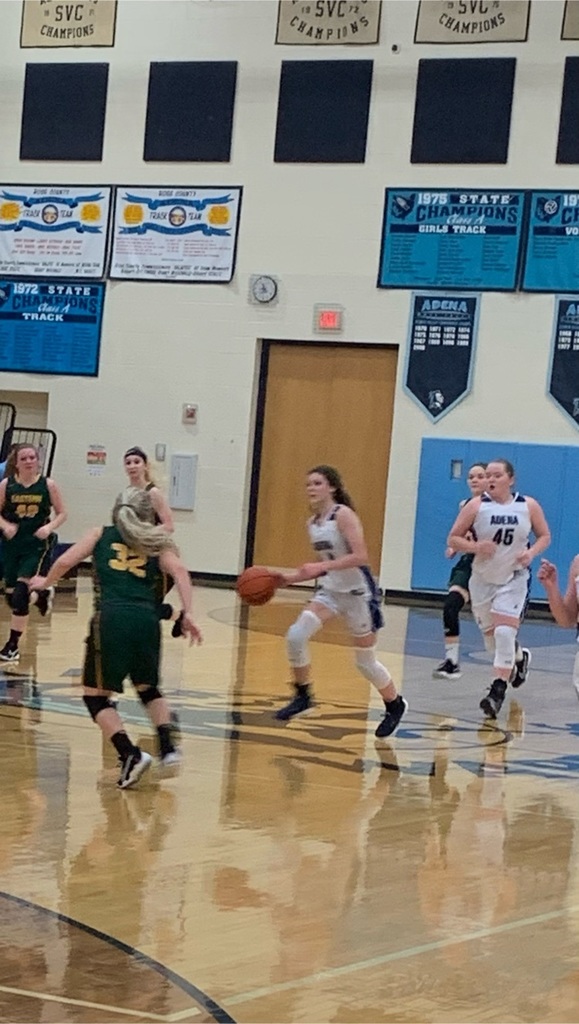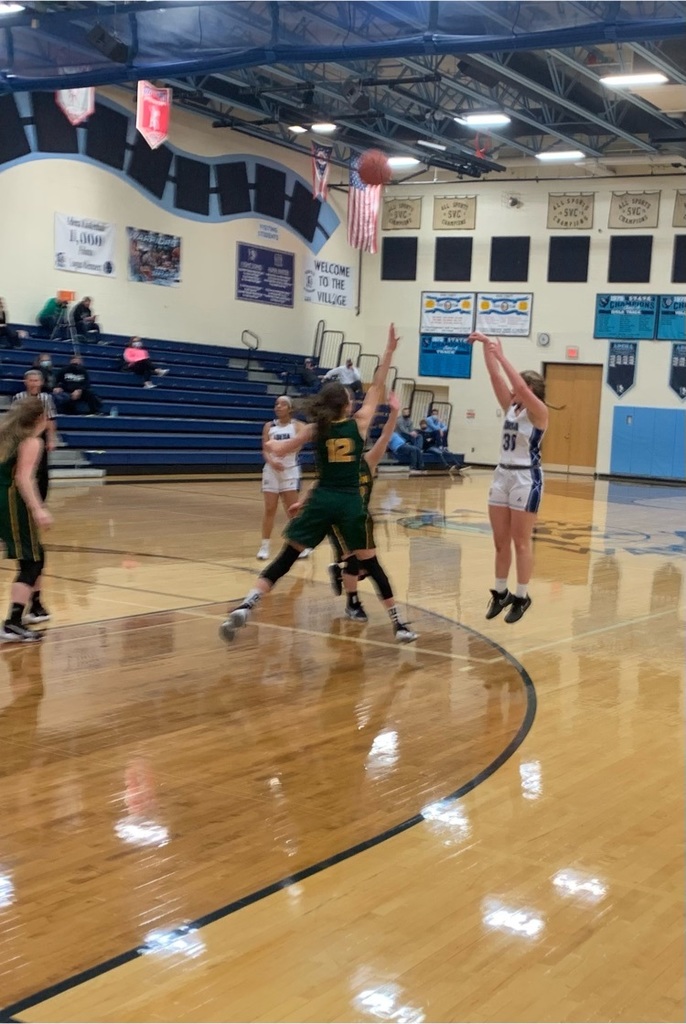 Our boys' basketball team defeated Paint Valley last night 66-45 and are now outright SVC champs! They brought home their first league championship since 2006 and are now 19-2 and finished 13-1 in the SVC! This follows what our girls' basketball team accomplished on Monday night. On Monday, our Lady Warriors claimed an outright SVC title with their 40-33 victory over Unioto! Their first league championship since 2013. They are currently 15-3 and 11-1 in the SVC! The first time both of our basketball programs have won a league championship in the same school year in school history! These team accomplishments follow what our football and volleyball programs did this fall. As they claimed league championships as well. This community cannot be more proud of what all of our student-athletes and coaches have accomplished this school year, despite the adversity they have dealt with during these current times. True Warriors! Go Warriors!

The January Student of the Month for the high school is Carter Glandon! Keep up the great work, Carter!