Adena High School Homecoming Court will be introduced at 6:30 pm--prior to the football game on Friday, September 30, 2022. Please follow the Warrior Stadium Guidelines: No footballs allowed in the facility (other than the one being used by the team). No smoking anywhere on school grounds. No pets of any kind allowed in the stadium (except service animals). Children 12 years old and under will not be permitted at the stadium without a responsible adult present. No one should be playing under or hanging on the bleachers. Students please remember to be kind and play nicely.


Correction: Important Information regarding M.A.D.E--The M.A.D.E rally is Oct. 28th this year. To ensure that you will have a t-shirt by then, applications must be turned in by tomorrow (9/23/22). You can turn in a paper application or complete it online on the Drug Free Clubs of America website. Our M.A.D.E contest runs through tomorrow (9/23/22). The class with the highest enrollment will receive an ice cream party. Seniors are in the lead with 50.9% enrollment so far. Which class can reach at least 70% by tomorrow (9/23/22)?

Progress reports will be available this coming Friday, September 23, 2022. Parent-Teacher Conferences for all buildings are scheduled for: Thursday, Sept. 29 4:00-7:30 p.m. Thursday, Oct. 13. 4:00-7:30 p.m.


Fall Picture Day is this Friday, September 16th for grades K-4. Fall pictures for Miss Amy and Mrs. Tasha's preschool classes are on Monday, September 19th. Fall pictures for Mrs. Makayla's preschool class are on Wednesday, September 21st.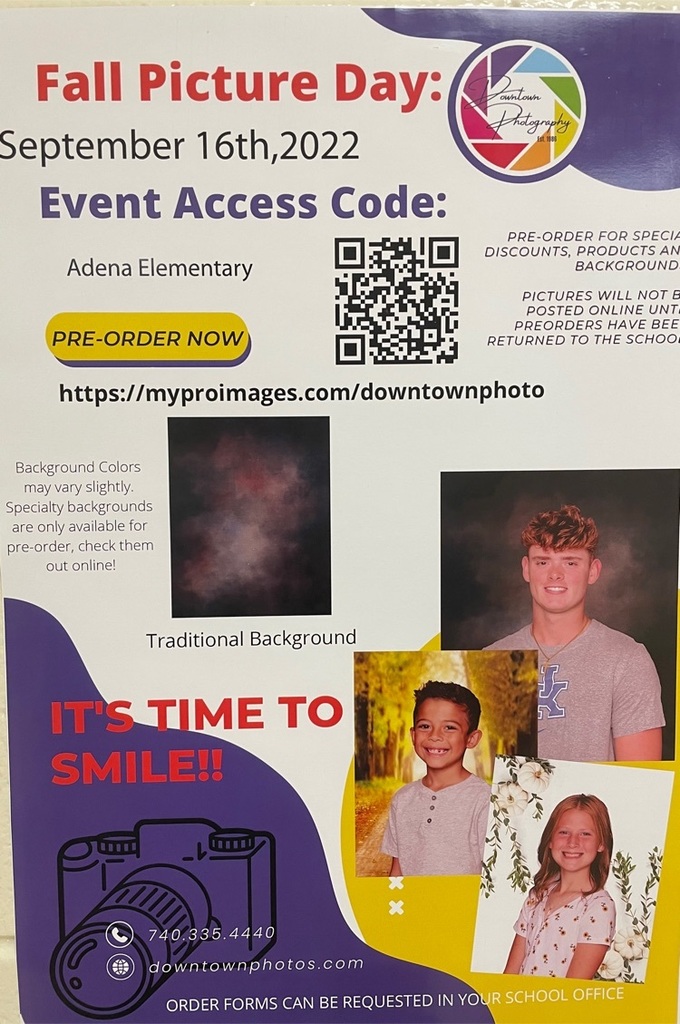 Adena High School Picture Day is Friday, September 16, 2022. Order online at
www.downtownphotos.com
and click on the pre-order school pictures button. Access Code: Adena High School

School pictures will take place on Friday, September 16th, 2022.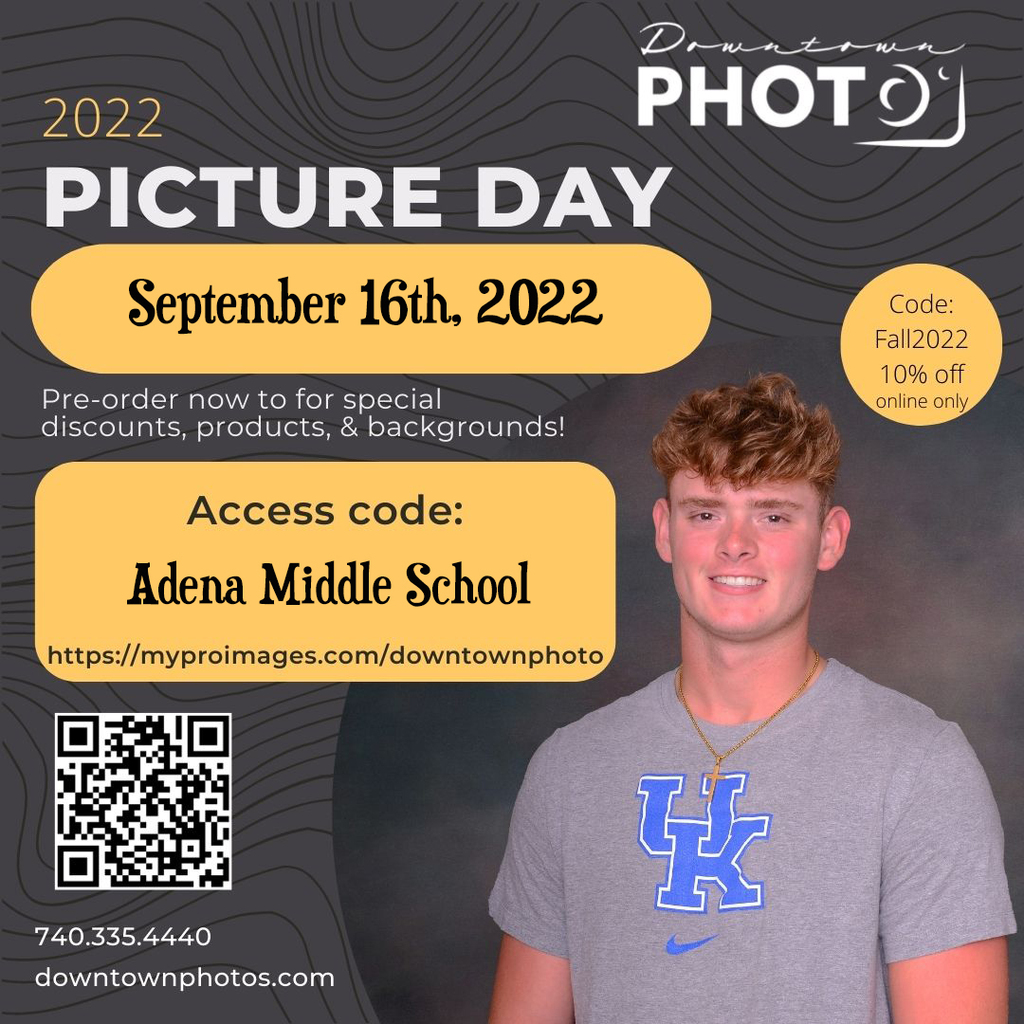 Adena Elementary Newsletter, Issue 39 Please review the attached newsletter for dates and times of each grade levels Grandparents' Day activities. There is also a fun run after the home cross country meet on Tuesday, September 13th. Cost is $5 for admission to the meet and the 1-mile fun run will begin at approximately 7:15 p.m. The meet takes place next to our playground.
https://docs.google.com/document/d/1ZZ2EselJ1qglKmoM9ljJck0px06TloVKmNchAot_i2M/edit?usp=sharing
Have a great weekend! Josh Jones Elementary Principal Adena Local Schools

Adena 8th Grade Parents and Guardians: There will be a mandatory parent meeting for the annual 8th Grade Washington D.C. trip on Tuesday, September 27th at 6 p.m. in the Auditeria. If your student is interested in going on the trip you will need to attend the meeting. If you have any questions about the meeting you can contact the MS office at 740-998-2313.

Adena High School Announcement: Jostens will visit with Freshman and Senior students on September 15, 2022. Freshman will receive class ring information and Seniors will receive cap/gown information.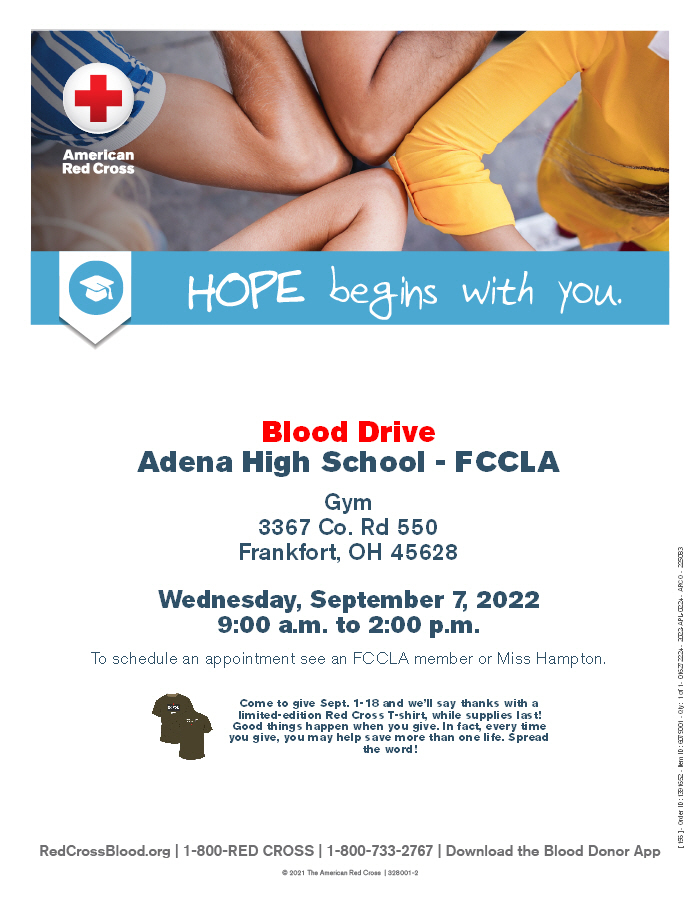 Warriors, It has been a great first week! There is a lot of information about upcoming events and activities in this week's newsletter. One activity that will be resuming is the Morning Mile! I do have one reminder about after-school pick up. If you are a parent picking up your child after school and have to get out of your vehicle to buckle your child into their seatbelt, please pull into one of the visitor parking spots to buckle your child in. This will speed up our pick up line for everyone waiting.
https://docs.google.com/document/d/1cWzj0Rg4yvli2Xh5l88AiifC5YeWE-gZQgYFNRgOT5E/edit?usp=sharing
Have a great weekend! Josh Jones Elementary Principal Adena Local Schools

Adena Local School District's record keeping has earned it the Auditor of State Award. The Auditor's office presents the Auditor of State Award to local governments and school districts upon the completion of a financial audit. Entities that receive the award meet the following criteria of a "clean" audit report: · The entity must file financial reports with the Auditor of State's office by the statutory due date, without extension, via the Hinkle System and in accordance with GAAP (Generally Accepted Accounting Principles); · The audit report does not contain any findings for recovery, material citations, material weakness, significant deficiencies, Uniform Guidance (Single Audit) findings or questioned costs; · The entity's management letter contains no comment related to: · Ethics referrals · Questioned costs less than the threshold per the Uniform Guidance · Lack of timely annual financial report submission · Bank reconciliation issues · Failure to obtain a timely Single Audit in accordance with Uniform Guidance · Findings for recovery less than $500 · Public meetings or public records issues · The entity has no other financial or other concerns
https://drive.google.com/file/d/1DUtYRglkNIA56t4QAjZQ0reSxBPHNhT5/view?usp=sharing