December lunch menu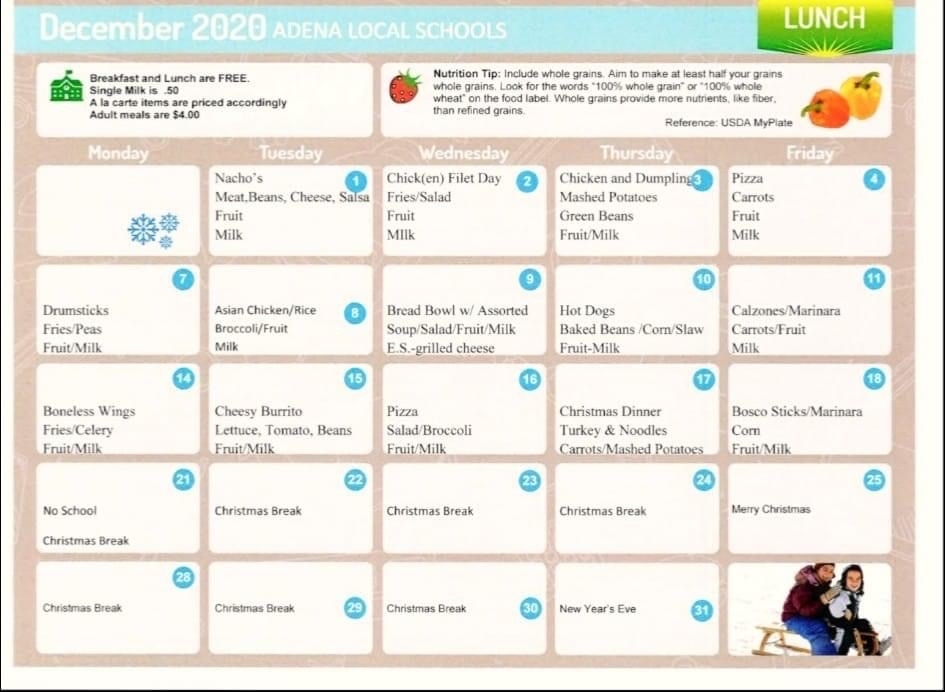 D44 Films is having technical issues. They are hoping to have the live-stream going before the second quarter. We apologize for the inconvenience.

The girls' basketball game tonight against Portsmouth Clay is still on. Game time is 5:30 p.m. There will be no spectators for this event. The game will be live-streamed by D44 Films. A link to the game will be shared when it is available.

Adena Local Schools Winter Athletic Event Update: The current plans are tentative and subject to change. All athletic activities (games/matches) will be held in the main gym. Per Ohio Department of Health Order: 15% capacity at all sporting events-237, if all bleachers are available. Immediate family only. If conditions get better throughout the winter sports season, this could change. With this order, visiting teams will get two tickets per student-athlete and coaches at the high school and junior high levels for basketball events. The ticket allotment for our teams will be based on the number of tickets available. The seniors of each group will receive the most (at least 4 tickets), with the rest being divided among the other classes. If a family has multiple athletes involved during the winter season, their number of tickets will be based on the oldest member. $5- tickets for all athletic events 7-12. Senior Citizen-$3 (unless board changes policy). No SVC passes accepted. Please contact the athletic department if you have any questions.

Lunch Menu Change: We will be moving our Thanksgiving lunch to Wednesday this week. It was originally planned for Thursday. Menu changes are reflected on the Adena Local Schools app.

The students and staff of Adena Schools want to salute our veterans. Although we can't be together for our annual observance we let the students put together this video clip (with the help of Erica Cormany) that expresses our gratitude and appreciation to our veterans. Thank you for your service!
https://youtu.be/X867UBOLsyc

The October Student of the Month for the high school was Nora Beery! Congrats, Nora!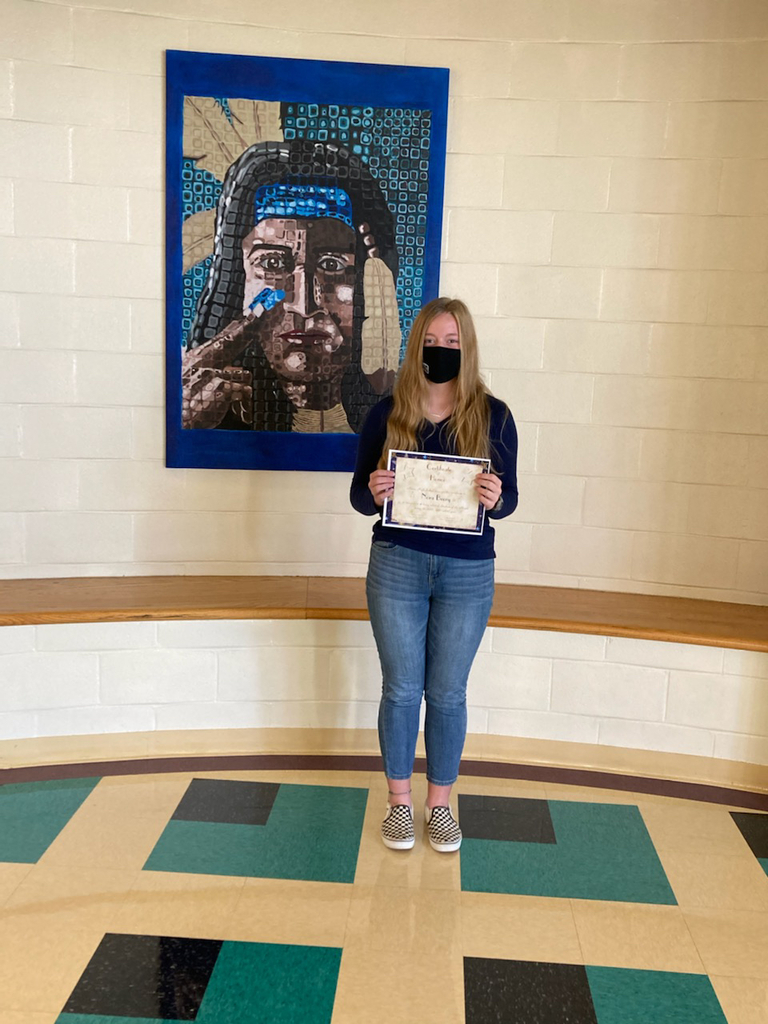 Throughout the month of October, Mr. Ebert's Journalism class has been gathering information and data to put together news stories for the first edition of our new Adena High School Newsletter! The October 2020 edition will soon be available in local hot spots in Frankfort and Clarksburg. It will also be viewable on our website. Every month a new edition will be released that highlights the events and news that occurred that month at Adena Local Schools. Thank you to Mr. Seth Ebert and his students for their work preparing our newsletter!

There is no school on Wednesday, November 11, 2020 in observance of Veterans Day. Our annual Veterans Day program will be virtual this year. The program will go out to the public on our Facebook page at 10:00 a.m. on Wednesday, November 11th. Mrs. Cormany's Video and Sound class has been working hard in the last couple weeks to get this program put together. Thank you to everyone that has helped contribute to our Veterans Day program!

Our volleyball team had their season come to an end today, but what a great season it was. They finished the season as the regional runner-up with an overall record of 22-2. They claimed a district title and finished 5th in the final coach's poll. As a program, our volleyball teams won SVC championships at the varsity, junior varsity, and 8th grade levels! A lot to build on for next year! Great season, ladies!

Ryan Richendollar ran his personal best today at the Division III Cross Country State Championships! He crossed the line in exactly 17 minutes! Ryan finished 65th in the state as a freshman. Great job, Ryan!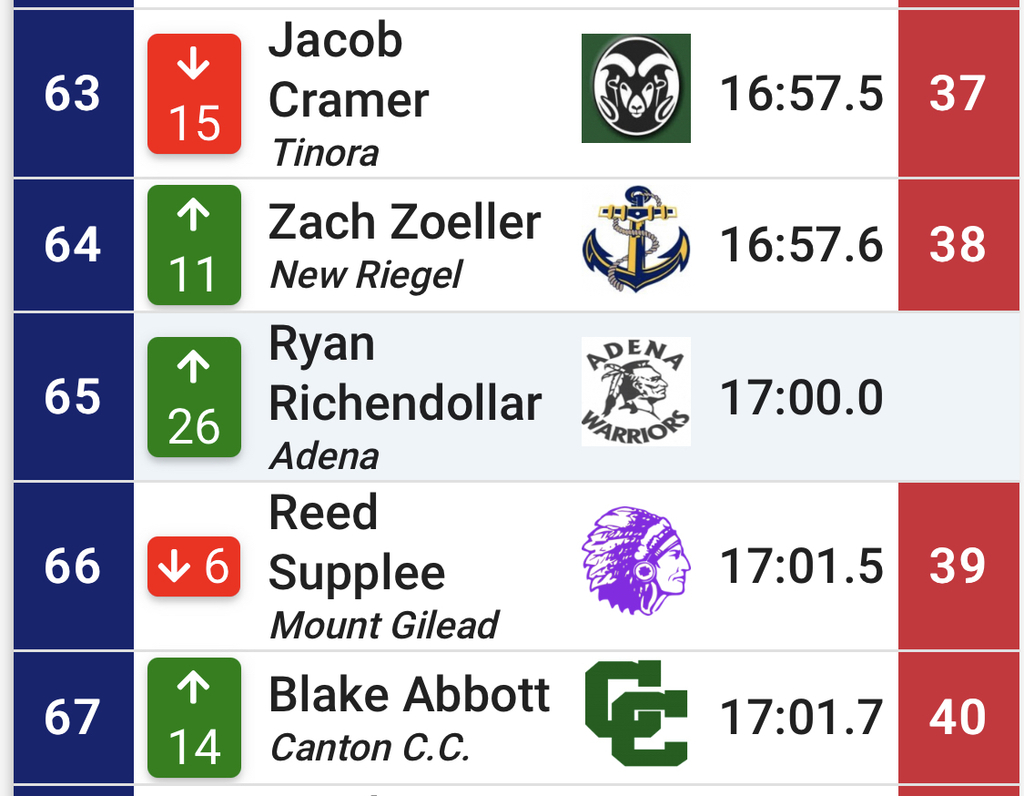 There is a time change for today's send off for the volleyball team. See below. We will send off the Lady Warriors today at 10:30 a.m. from the high school parking lot with Concord Township Fire and the Ross County Sheriff's Department. The bus will head down 550 through Frankfort and then proceed to Route 35 on Co Rd 87. If you have a chance come out and cheer them on as they pass by. Good luck ladies and to Ryan (who will already be at Fortress Obetz at that time.)

Congratulations to the newest members of the Adena High School National Honor Society!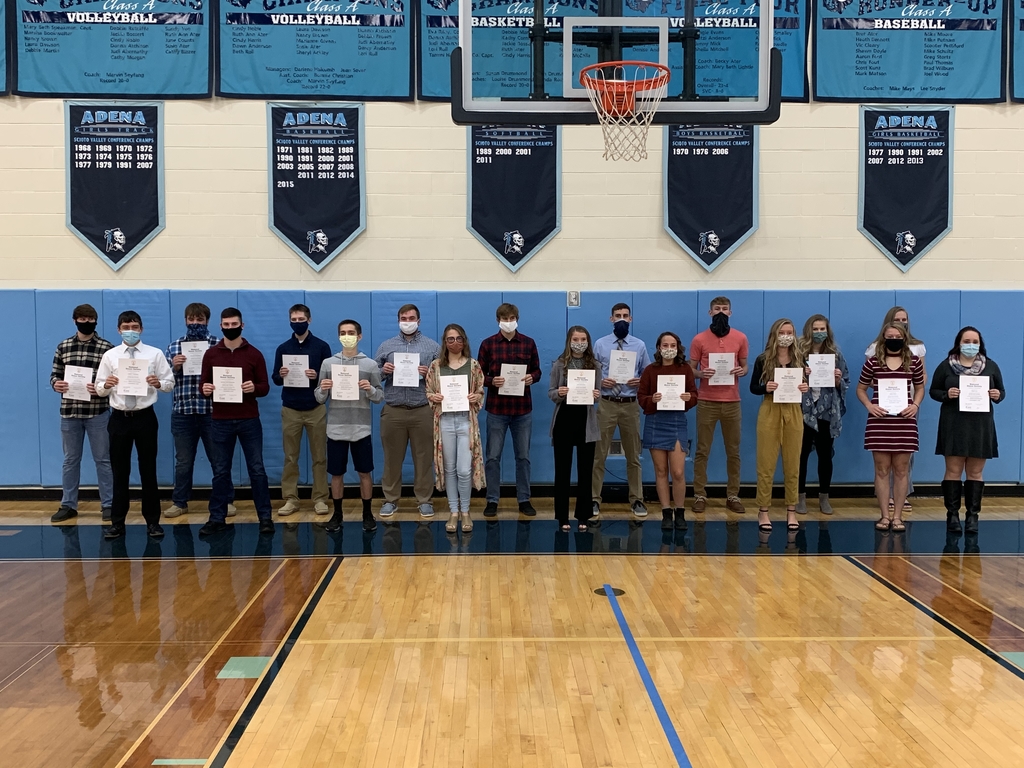 Here is a moment with our Volleyball Captains. We are proud of our Lady Warriors and wish them the best tomorrow!
https://youtu.be/HOKv3VgGGPk

Meet Adena freshman Ryan Richendollar. Ryan will race tomorrow at Fortress Obetz in the Cross County State championship. Good luck, Ryan. We are proud of you!
https://youtu.be/5dG-IpF9Vt0

2020 has been a special year for this group of Adena Seniors. They started in Kindergarten together and made school history this year. We thought it would be nice to give them a chance to share with the community. Thanks for helping bring some excitement and relief to a very challenging year for the Village. Good luck to all!
https://youtu.be/bOoDif0QIaE