Alumni Basketball Tournament and Spaghetti Dinner will be held on Saturday, November 16th. Dinner begins at 3:00. Adult Meal is $6.00 with Children 12 and under at $4.00. Ball begins at 5:00 p.m.

A reminder that there is no school this Friday , November 15, for all Kindergarten through 3rd grade students.

Enjoy us tomorrow for a steel drum concert!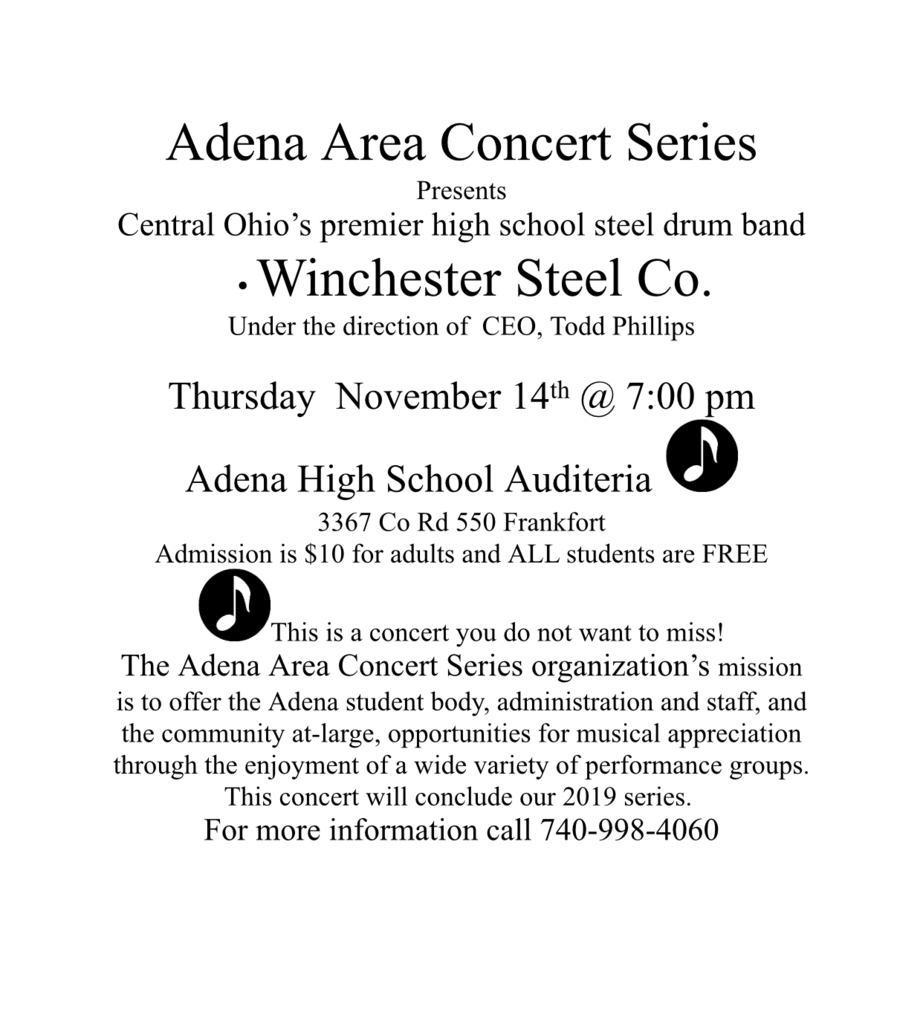 Everyone remember to exercise caution driving to school tomorrow. There could be icy patches. Use slow speeds and full attention on the road for a safe trip.

The All-SVC Fall Banquet was held tonight and we had several student-athletes get recognized for their accomplishments in their sport. Eric Hurtt, Nate Throckmorton, and Preston Sykes were recognized in football. Emmitt Cunningham, Noah Kanniard , and Greenlee Bossert in cross country. In volleyball we had Jenna Martin, Ellie Harper, and Camryn Carroll earn all-league honors. Congrats to all of them!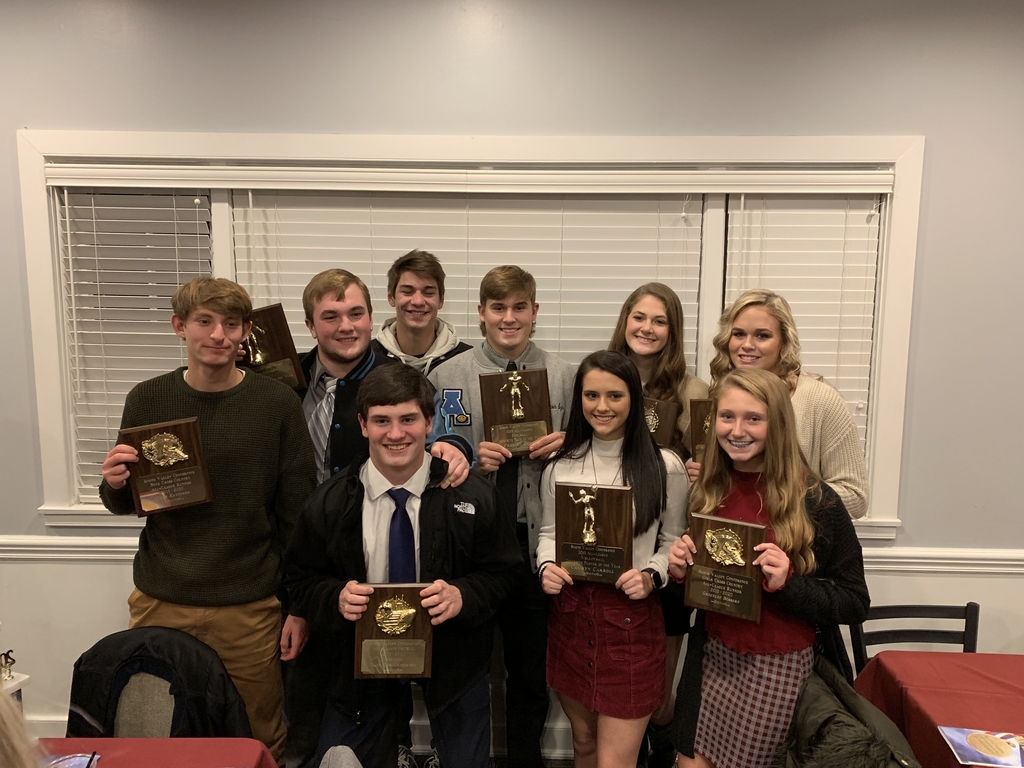 The October Student of the Month for the high school is Hannah Newland! Keep up the good work, Hannah!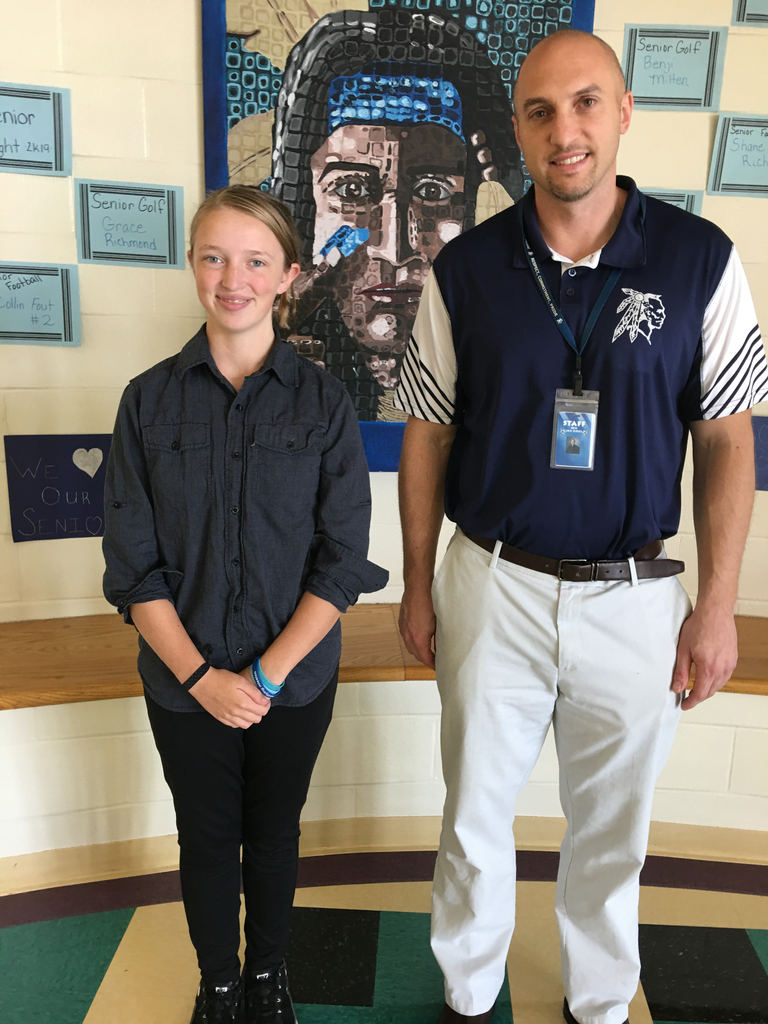 Adena Local Schools are now closed for Tuesday, November 12, 2019.

11-12-2019 Adena Local Schools will be operating on a two-hour delay today. A final decision will be made at 7:30 this morning to see if road conditions will be safe for buses, students and parents to transport children to school.

Please be aware Tuesday morning could bring some snow and slick roads. This is a good time to review the 2-hour delay or closing plans for your household and confirm the backup childcare helpers in the event winter weather brings about schedule changes. First alerts would go out at 6:00 a.m. via the robo-call system and then on WKKJ radio as well as Channels 4, 6 and 10. We hope the forecast changes but in the event it does bring an inch or two of snow we want to be prepared. Thanks!

Special thanks to all veterans for your service. We really appreciate you joining us today to share with our students.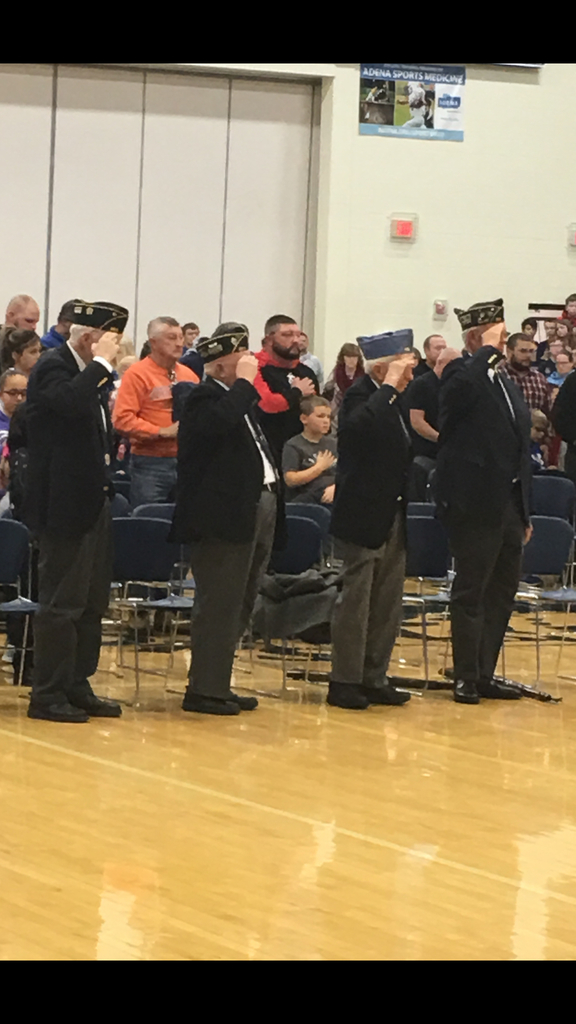 Please join us for our annual PTO card party on November 26th. See the flyer for details.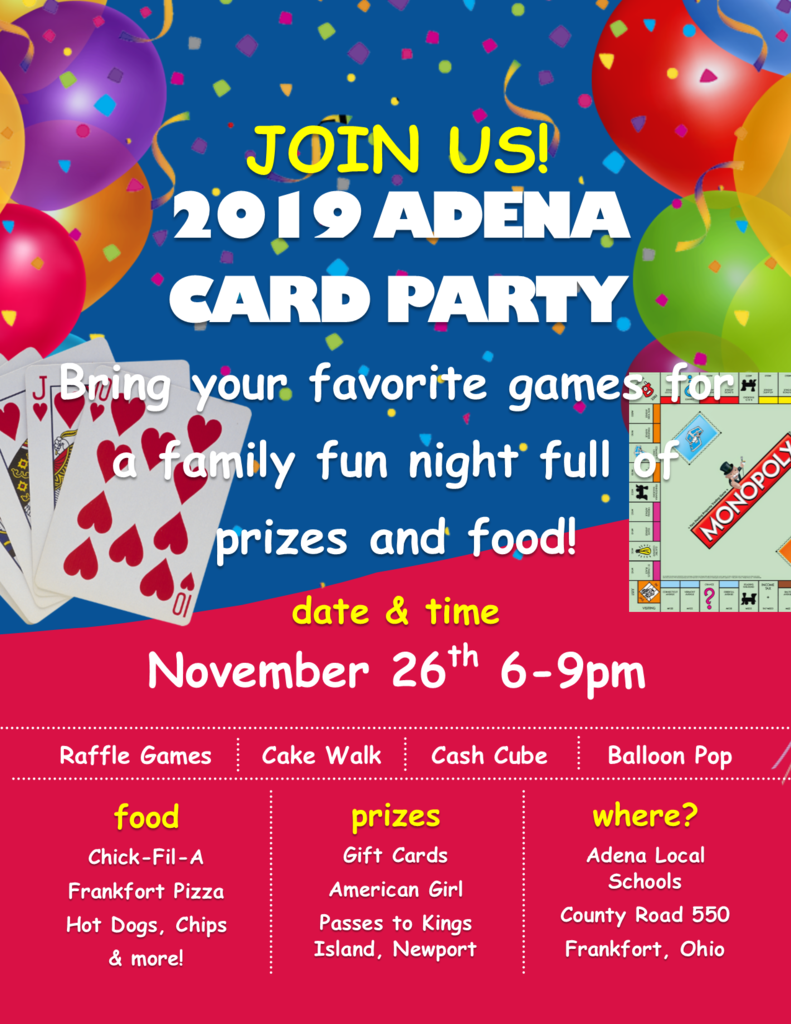 Pre-sale tickets for the football playoff game against Mechanicsburg are on sale in the high school office. They will be on sale in the office from 7:30 a.m.-3:30 p.m. until the end of the day on Friday. The cost is $8. The cost is $9 if you purchase them at the gate. There is also a community pep rally on Thursday at 7:30 p.m. in the high school gym. Pre-sale tickets will be sold at the pep rally. The playoff game is scheduled for 7 p.m. on Friday night at Bostic Field. Go Warriors!

Our annual Veterans Day Program will be held this Friday, November 8th at 9:00 a.m. in the high school gymnasium. The flag raising ceremony will take place at 8:45 a.m. at the flag pole at the front entrance. The FFA will be serving breakfast for all veterans beginning at 7:30 a.m.

State Superintendent of Instruction Paolo DeMaria was invited to visit Adena Schools and he accepted! The following are some pictures of the visit. Ohio is focused on the whole child approach to education. We looked at all aspects of our school- food, transportation, instruction, support services, etc. We talked about our elementary reading program and its progress, the middle school leadership program, technology instruction, and the high school momentum in climate, academics and student growth measures. We appreciate the time Superintendent DeMaria spent with us and encourage him to support reforms that would allow smaller schools to demonstrate their report card progress on a level playing field with the large districts when working with the legislature. There is also a nice video clip from his Twitter feed summarizing his visit for you to watch. Go Warriors!
https://drive.google.com/open?id=19DZ-ypRlIKWJPsvUJcMYWfiKUB3E3Qey

Our Spooky Breakfast of "Spiderwebs" with a spider included! I know one spider got to be named "Sandy" and was to become a pet! Followed by our Halloween lunch of "Vulture Nuggets" shaped like Moon's, Pumpkins and Witch Hats" -Honey Roasted Acorn Squash and 4 color cauliflower in cheese sauce for our Brains! A dreamsicle flavored EEEEEKKK sidekick for dessert too! Happy Fall Everyone!!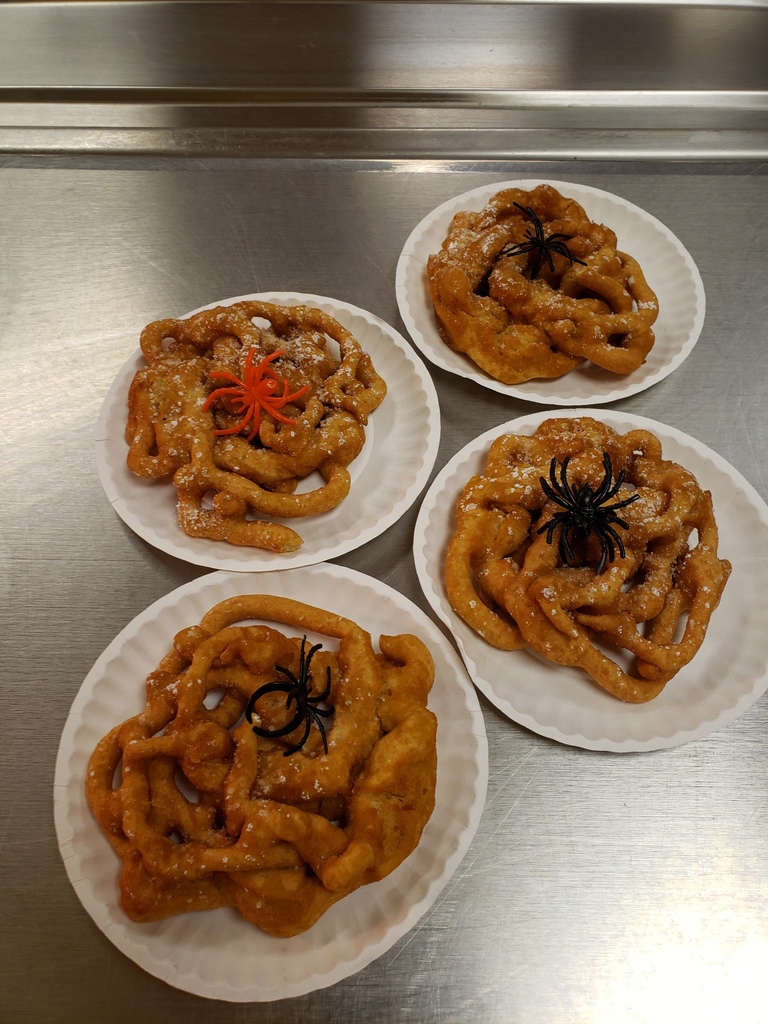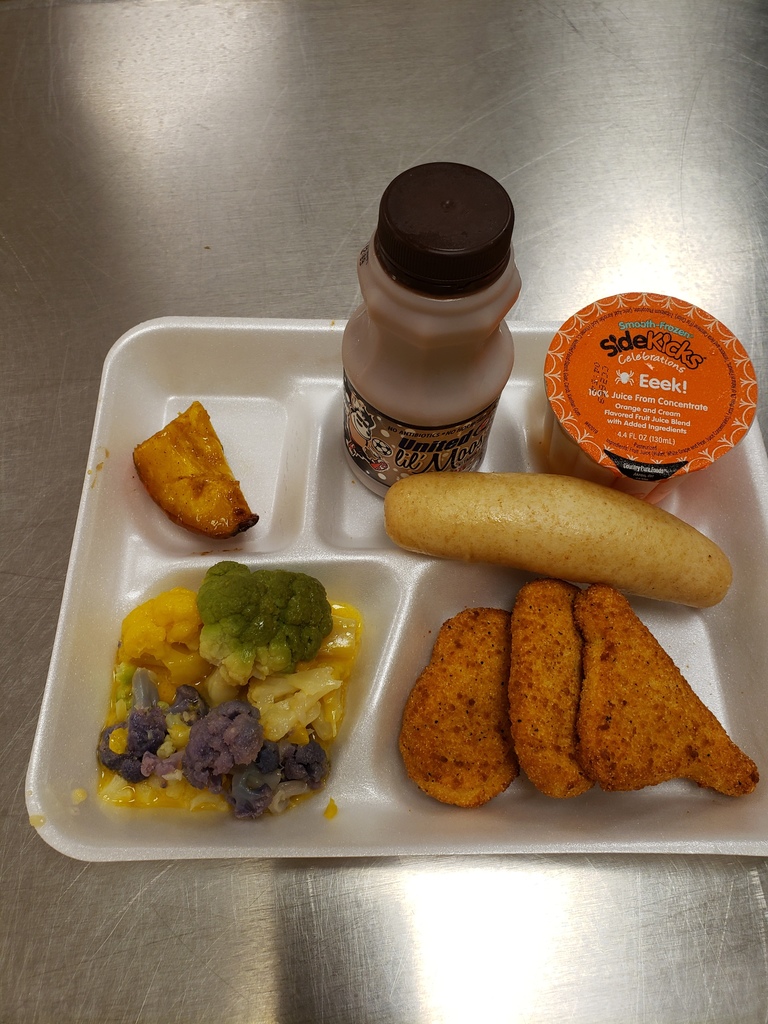 Would you like to have printable breakfast and lunch menus for the month? Visit the link below each month for the most updated ones. Also remember that you can check the daily options on the Adena Local Schools App. You can download this in your app store for your smart devices.
https://www.adenalocalschools.com/o/adena-local-schools/browse/82339

Trick or Treat in Frankfort and Clarksburg has been moved to Saturday, November 2nd, from 2:00 P.M. to 3:30 P.M.

A reminder to our Elementary Community that there is a new form that is required when families request vacation leave for their children. This form must be completed instead of a letter, and should be submitted in advance of the vacation leave. It can be found in the Elementary Student Handbook on our website. Thanks so much for your support! Mrs. Wayland

Just an FYI for anyone that has our District App downloaded......We are currently experiencing crashing issues due to the iOS 13 update. Our vendor is currently working on the issue and hope to have it resolved soon. Right now it only seems to be happening to Apple devices that are running the latest software version. Thanks for your patience.

Adena PTO funded visiting author for grades K-5 is David FitzSimmons. He will be here Monday, November 4, 2019 for two presentations during the school day (K-2 and 3-5). He is also staying during our evening Academic Night activities to do a presentation and book sales/signing for the families. Below you will find all promotional materials and book order form. Please feel free to print off the order form and buy any books you may want for your child. Please have them bring the order forms back into their teacher. Contact
angie.williams@adenalocalschools.com
for any questions.
https://tinyurl.com/yyxah77r